Part of the upsides of visiting places like Curaçao is the wildlife. You get the chance to see and interact with some interesting animals that you can't typically see in cities. Curaçao is particularly famous for its turtles. So, if you are taking a vacation to this Caribbean Island country, you might want to check them out.
Obviously, it's not like turtles are pasted all over Curaçao. So, if you intend to see turtles on your visit to the Caribbean Island, you must go to specific places.
So, where can you see turtles in Curaçao?
You can see turtles in various places in Curaçao: from Playa Grandi to Klein Curaçao, Porto Marie, Boka Ascension, and Playa Lagun. But then, the chances of seeing a turtle in each of these places differ from one place and time to another.
Below, we discuss the specifics of each place you can see turtles in Curaçao. We talk about the ease of seeing turtles in each location, the type of interactions you can have with the turtles, and much more. Read on for the details.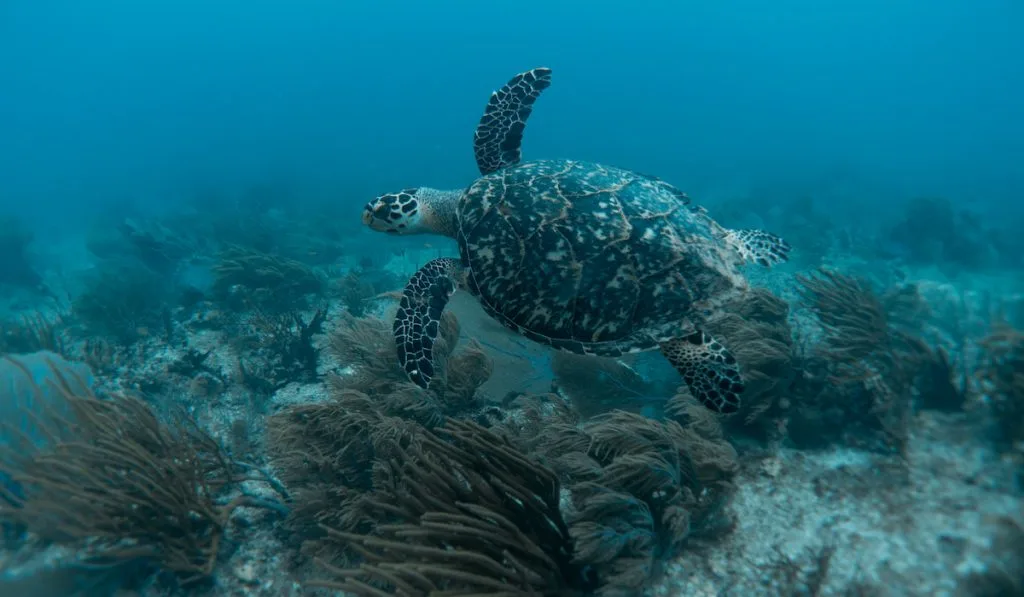 Where Can You See Turtles in Curaçao?
Playa Piskado
Playa Piskado is a beach in Westpunt. It also goes by the name Playa Grandi.
While the scenery in Playa Piskado might look ordinary, it is one of the places you are sure to find turtles in Curaçao.
Playa Piskado is a small beach in Curaçao with an expanse of white sand and turquoise water. This combination of natural features might look ordinary. But with the turtles in the water, Playa Piskado becomes enchanting.
Playa Piskado might be the only beach on Curaçao where you are sure to find turtles. The presence of turtles in Playa Piskado waters might be related to the fishing activity around the beach since the fishermen feed the turtles scraps of octopus and fish.
You can go swimming/snorkeling with the turtles in Playa Piskado. But you will need flippers and snorkeling gear.
You might be able to rent those items in Curaçao. But if you use prescription glasses, getting a mask with suitable lenses might be almost impossible. So, to ensure things go seamlessly, bring your own snorkeling gear.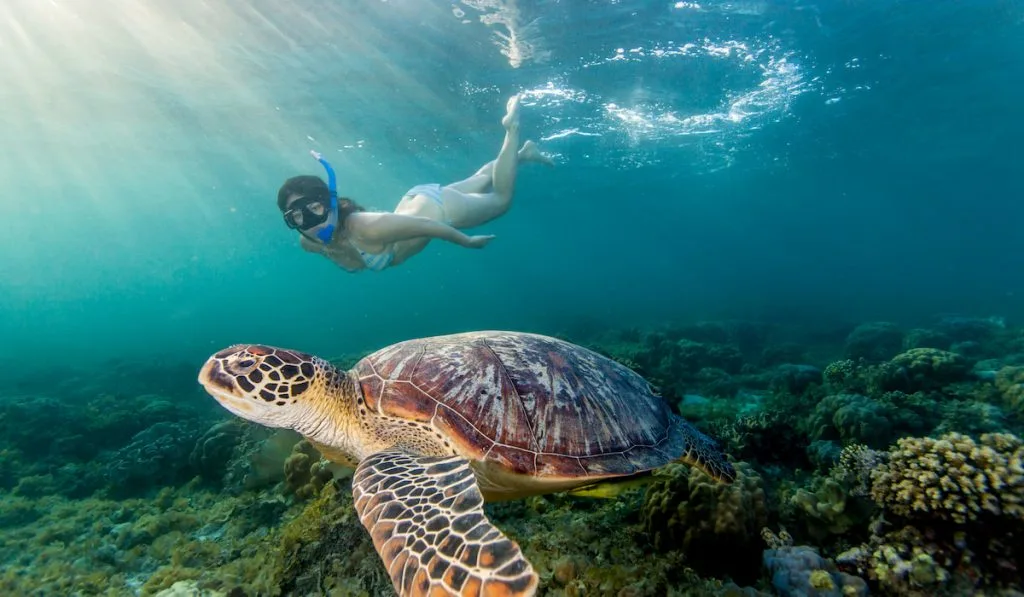 If you prefer not to rent snorkeling gear or travel with yours, you can get one at a specialized dive shop.
You may be considering not getting a beach chair. But you probably should in case you decide to swim with the turtles longer than planned.
The beach chair may also come in handy if you want to wait for the tourists on the beach to thin out before swimming.
If the crowd on the beach does not reduce fast enough for you, you may still try to swim with the turtles. But move a bit further from where most people are; you should still find some turtles away from the group.
When you swim with turtles, give them space and do not touch them.
Klein Curaçao
Klein Curaçao, meaning Little Curaçao, is a small island southeast of Curaçao. If you travel by boat from Curaçao, you should get to Klein Curaçao within 2 hours.
The chances of seeing turtles in Klein Curaçao are less than Playa Piskado. But if you go towards the rocky of the Klein Curaçao beach, your chances of seeing turtles are very high. Thankfully, the turtles are not shy. So, when they are around, they will not hide from you. But sometimes they might ignore you.
Porto Marie
While Porto Maire is not a hotspot for turtles in Curaçao, sometimes you may find them here. This is especially true when baby turtles hatch and scramble across the beach to find their way to the ocean.
Playa Lagun
Like Porto Marie, you may spot turtles in Playa Lagun after baby turtles hatch and get into the water. You can expect to see green sea turtles at the center of the Playa Lagun cove.
When the turtles are around, you may only come across 1 to 3 individuals. Then on other days, there may be no turtles around.
Besides the turtles, the Playa Lagun cove has many other aquatic animals. You can find sardines, green moray eels, wrasse, butterflyfish, parrotfish, and many others there.
Playa Lagun is on the western region of Curaçao. You can get there through the public bus service. Alternatively, you may get a rental car.
Boka Ascension
Boka Ascension is one of the primary feeding areas for turtles in Curaçao. So, if you want a good chance at spotting turtles, go there.
Besides seeing turtles in Boka Ascension, you could take in the view of the landscape. Boka Ascension has an interesting trail of plant life you could just immerse yourself in.
Boka Ascension is in the northwestern region of Curaçao. But finding the entrance is a bit complicated.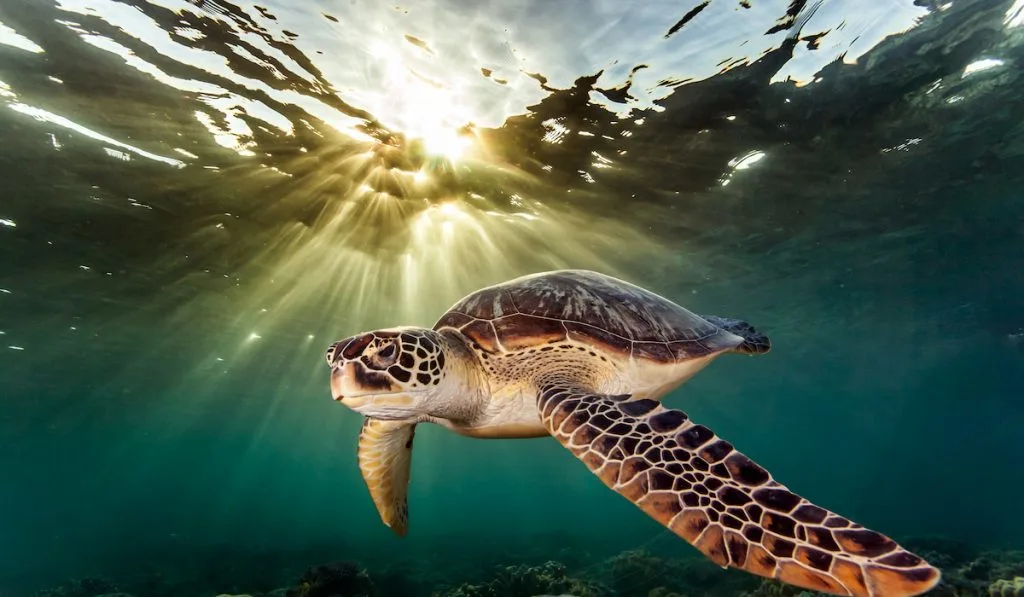 Willemstad Sea Aquarium
If you really want to be sure you'll see turtles, go to the Sea Aquarium in Willemstad. Over there, you'll see turtles for sure. But beyond that, you can actually feed the turtles if you want.
Some Tips for Swimming With Turtles
If you intend to get in the water to swim with the turtles, the following tips will come in handy:
Do not use sunscreen. Turtles and other aquatic animals cannot tolerate the chemicals in sunscreen. So, if you get in the water with sunscreen on you, the turtles might get sick.
Do not leave your waste around. If you decide to go to the beach with food or drinks, ensure you leave no waste around. Take all litter along with you and dump it in a bin when you find one. If you leave trash behind, it can get in the water, harming aquatic life in the process.
Do not touch or get too close to the turtles. Turtles do not like being touched at all. So, try not to get your hands on them. Apart from that, do not get too close to the turtles that you block their way. Of course, you can swim close to them; blocking their path is the problem.
Turtles are an endangered species. So, it is vital that you do not do anything that can further put their existence at risk.
Summary
Seeing turtles in Curaçao is not so tough. You will most likely see turtles if you check places like Boka Ascension, Playa Pikado, and Playa Lagun.
But if you want some guarantee that you will see turtles, check the Sea Aquarium in Willemstad.
Resources