Cozumel is a low-key island and one of the must-visit destinations while in Mexico. The island's beautiful scenery and tropical landscape are the first things you spot when you arrive.
While the island is a famous spot for scuba divers, it's also perfect for snorkeling enthusiasts.
Its shore waters are clear and there are plenty of sea creatures like stingrays, crabs, and other reef creatures that make snorkeling fun. What's more, Cozumel provides more access to snorkeling spots, especially from March to June.
If you're new to Cozumel and you're thinking of going for a snorkeling trip to this beautiful island, our detailed guide covers some of the best spots to snorkel and some essential tips to have in mind.
Where is Cozumel?
Cozumel is off the Northeast coast of Mexico's Yucatan Peninsula. It's located across the water from Playa Del Carmen.
Getting to Cozumel takes about one and a half hours from the Cancun airport.
The Best Time to Visit Cozumel
Cozumel has a predictably tropical climate, which makes it easier to plan your snorkeling trip. The island doesn't experience a lot of temperature difference as it lingers around 83°F.
The best time to visit Cozumel is between January and April. During this time, there's an influx of tourists so it may not be the best time for someone who doesn't like large crowds.
November and December are considered autumn-winter months. The humidity levels can be low and it can be chilly in the evenings.
Top 5 Offshore Snorkeling Spots in Cozumel
Offshore spots provide a convenient way of exploring the undersea world.
Note that although snorkeling offshore is free at public beaches, areas managed by a restaurant or beach club might ask you to buy a drink or snack. You may also need to pay an entrance fee at private beaches. The best thing is you also get to use the hotel facilities too.
Some of the best offshore snorkel spots worth visiting include:
1. Chankanaab Park
Chankanaab Park is a popular snorkeling spot that is about four miles from the cruise port. That makes it easily accessible by car. The park features a man-made beach, a freshwater lagoon, and pristine tropical gardens.
Families and beginner snorkelers will love the park as there's a mild current and the water is shallow. There are also qualified instructors and practice areas for beginners. Snorkel gear is also available to rent at a reasonable price.
You'll also love the colorful and vibrant marine life that features morays, eels, sea urchins, snappers, angelfish, and more. Another impressive feature is the underwater statues of the Virgin Mary and Christ. The site also has underwater Mayan sculptures. Its 100-foot visibility makes the park a safe place for the family.
Chankanaab Park also has other activities like scuba diving and swimming with dolphins. Furthermore, Chankanaab is close to Dolphin Discovery, Money Bar Beach Club, and Fly High Adventures Zip Line Park, which gives you plenty of activities to experience.
The only limiting factor is that the park doesn't have any coral reefs as it's man-made. That means most of the marine life is limited. There's also an entrance fee of $25, which doesn't include snorkeling equipment rental.
2. Playa Palancar
Playa Palancar boasts turquoise blue waters and rich marine life. The site is popular for both experienced and intermediate snorkelers.
Additionally, the reef has five sites where snorkelers can explore the different marine life and coral formations, snorkel, and dive. Palanca Shallows and Palancar Garden are considered a snorkelers paradise, while Palancar Caves, Palancar Deep, and Palancar Horseshoe are perfect for divers due to their depths.
3. Villa Blanca Reef
The Villa Blanca Reef is found on Cozumel's west coast and it's a distance from the ferry port. Apart from being ideal for all levels of snorkelers, Villa Blanca Reef is also easily accessible from the beach.
The reef comes alive in front of the Villablanca Garden Hotel, which is an excellent place to stay while in San Miguel.
Villa Blanca Reef is home to different marine species, with popular options being tropical reef fish, sea fans, sea corals, and more.
4. Money Bar/Dzul-Ha
Dzul-Ha is another popular snorkeling spot in Cozumel that features a variety of underwater attractions and has a shallow reef. You can easily access this reef from the shore and it's ideal for beginner snorkelers.
With visibility averaging 60 ft, you can spot tropical fish like parrotfish, manta rays, damselfish, and butterflyfish. Dzul-Ha is also home to lobsters and crabs.
Some facilities provide snorkel equipment at a cost and multiple restaurants to get your lunch.
Note that the reef may be rocky and some areas slippery. Consider getting some reef socks or boots before going into the waters to avoid injuries.
5. Punta Sur Eco Beach Park
Punta Sur is an ecological reserve managed by the government. Located in the southern part of the Island, Punta Sur attracts rare birds like flamingoes, and you're likely to come across sea turtles.
The park has a facility where you can rent snorkel gear to explore underwater. When out in the deep waters, you'll spot spiny lobsters, fish, and barracuda. it's best to snorkel in the morning as the waves are calm.
Note that there's a $14 admission fee that goes toward maintaining the park.
Boat-Accessible Snorkeling Spots in Cozumel
Apart from shore snorkeling spots, Cozumel also has boat-accessible coral reefs.
Note that most snorkeling tours cost around $30 and depart from the main dock. It's recommended to choose a tour that includes two to three stops.
Here are a few spots you can visit by boat when you visit Cozumel.
1. Columbia Reef
Columbia Reef is a must-visit when you're in Cozumel. It's located close to the Palancar Reef. While it's a bit of a distance from the shore, you can easily access it by boat.
Columbia Shallows, which is the shallower part of the reef has huge coral structures that house schools of fish, turtles, and eagle rays. There's also Columbia Deep, a vertical wall at the end of the shallow reef that's also an excellent diving spot.
2. El Cielo
El Cielo is half a mile off the Cozumel Coast and features a thin stretch of sandy beach.
The phrase El Cielo, which means The Sky got its name because of how the clear waters reflect the sky like a mirror. Its waters range between 3-4 feet (0.9-1.2 m), making it perfect for beginner snorkelers.
There are plenty of starfish and sea urchins in El Cielo. People who can't swim are also able to walk and explore the local marine life.
El Cielo also has plenty of beach restaurants and bars that you can visit in your free time.
Note that the spot is only accessible by boat that costs about $42. Most tours depart from Cozumel's dock in San Miguel.
3. Paradise Reef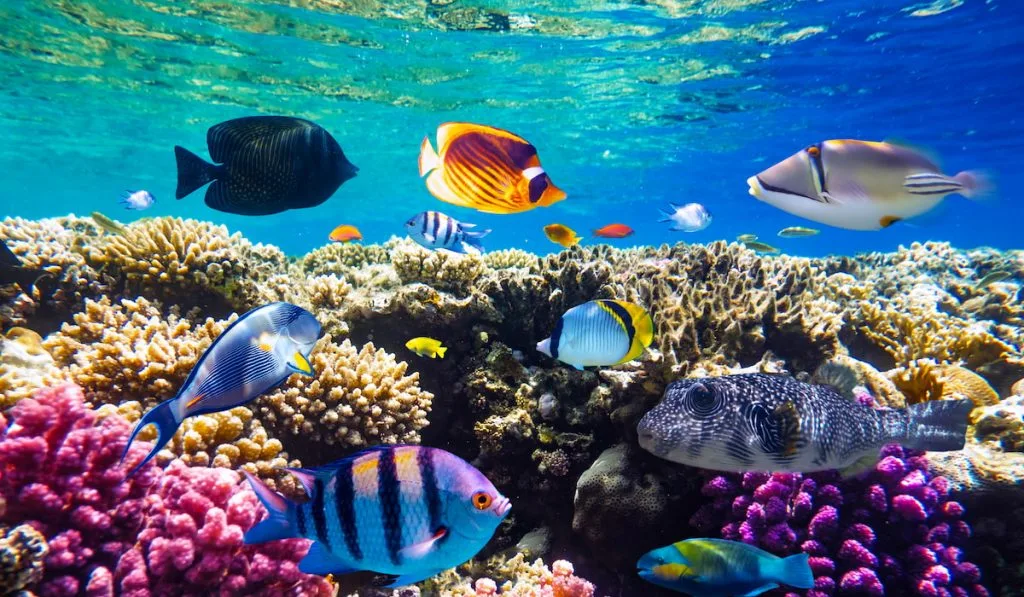 Paradise Reef is accessible by boat or through a beach entry. It's near a cruise ship port and has everything you would want in a snorkel spot.
There are two coral ridges as you swim out in the deep waters. You'll come across schooling fish, red seahorses, sergeants, emperors, angelfish, and barracuda. You'll also see plenty of tropical fish when you get to 150 feet.
Snorkelers also get a chance to explore three different reefs when they get to the deeper section of the waters. While experienced snorkelers may be able to explore all three reefs in a single dive, most of it is steered by the gentle current that allows the snorkelers to drift without much struggle.
Paradise Reef is also a popular spot among scuba divers, thanks to its depths that stretch between 49-115 feet (15-35 m). Its diverse selection of marine life makes it challenging to keep track of the various species in this reef.
4. Santa Rosa Reef
Santa Rosa Reef is another snorkeling spot only accessible by a boat. The site provides a unique underwater experience with a visibility of up to 148 feet (45 m) and plenty of marine life.
While snorkeling, you can come across slipper lobster, popcorn shrimp, yellow tube sponges, and unique corals. There are also multiple caves and swim-throughs.
Can You Snorkel on Your Own in Cozumel?
It's possible to go on a snorkeling trip without a guided tour as Cozumel is easily accessible. However, you need to plan and learn about the convenient snorkeling spots with rental facilities.
Here are some tips to help you get started.
Plan in Advance
Don't wait until you get to Cozumel to start planning your snorkeling adventure. Ensure that you have your itinerary ready and know the spots to explore as well as how to get to the different snorkeling areas.
Decide if you need to rent a car to explore the island or use a taxi to move around. There are also scooter and bicycle rentals on the island.
Additionally, ensure that you exchange your money for pesos as most restaurants and shops only accept cash.
Find a Convenient and Accessible Spot
The southwestern shore of Cozumel has calm waters and is perfect for beginner and intermediate snorkelers. Advanced swimmers prefer the northern shore due to its strong currents.
Find a location with accessible rental facilities. Sometimes, bringing your gear also saves you money and hassle. Locations like Chankanaab Park and Dzul-Ha are excellent starting points. Alternatively, you can explore Playa Caleta, which is located at a smaller beach.
Places to Stay in Cozumel
Below are some options you can explore when planning your stay in Cozumel.
Secrets Aura Cozumel
Secrets Aura is a secluded, adults-only resort with plenty of facilities. It has a private beach, swim-up bars, and a spa.
Grand Park Royal
If you're looking for an all-inclusive hotel, you should check out the Grand Park Royal Cozumel. It features a central pool, infinity pools, and several restaurants. You'll be spoiled for choice when it comes to meals and drinks.
Intercontinental Presidente Cozumel Resort Spa
Presidente Cozumel Resort & Spa is one of the few hotels that provides snorkel tours and has an on-site dive shop. It also has outdoor pools, two tennis courts, a fitness center, and multiple restaurants.
Final Thoughts
Cozumel boasts of abundant marine life, crystal clear waters, and plenty of snorkeling spots to explore.
Its perfect weather makes the island ideal for both the young and those with families. With our tips above, your snorkeling trip to Cozumel is guaranteed to be enjoyable.
Resources