Queensland is famous for its stunning waterfalls, tropical climate, and the Great Barrier Reef. However, one of the lesser-known tourist spots is Magnetic Island, which is off the coast of Townsville.
Magnetic Island boasts scenic views, marine and coral life, and beautiful rock formations. And there are plenty of activities to do like swimming, wildlife watching, exploring the beaches, and snorkeling.
If you're looking to learn more about snorkeling on Magnetic Island, read on to find out some of the best snorkeling places on Magnetic Island and for tips on how to get around the island.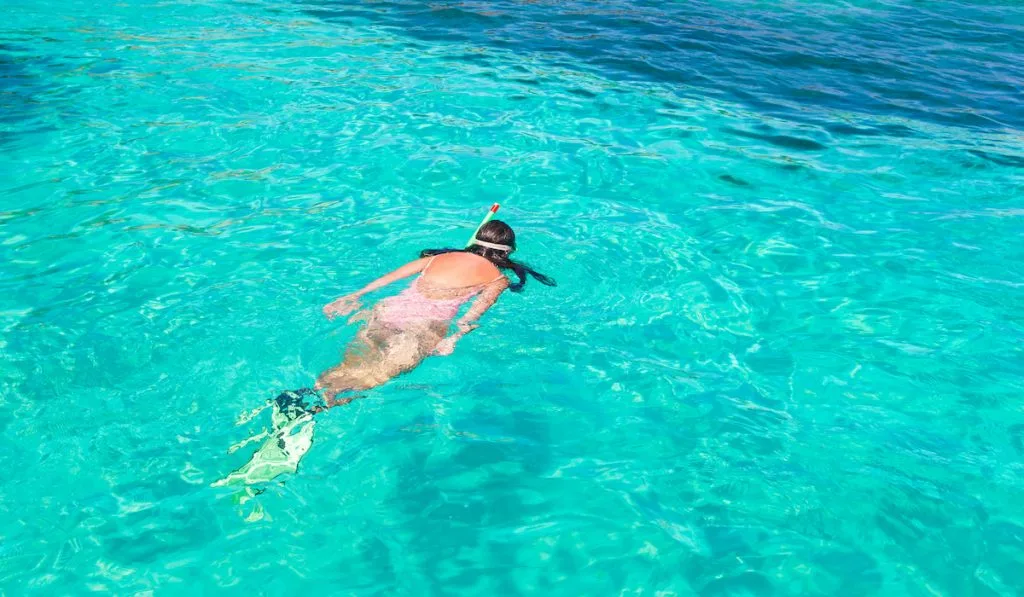 The Best Snorkeling Places on Magnetic Island
Some of the best snorkel trails include:
1. Florence Bay
Florence Bay is highly rated as one of the best places to snorkel on Magnetic Island. It's accessible from Horseshoe Bay by hiking, or you can catch a bus from Nelly Bay.
The bay is also home to one of the best shipwreck sites: the shipwreck of the SS Yongala. If you're lucky, you can spot sharks at the shark nursery while snorkeling. The bay is also home to eagle rays, angelfish, and other schools of fish.
2. Nelly Bay Snorkel Trail
Nelly Bay Snorkel Trail is about 109 yards offshore. It's a perfect location for beginners due to its easy access. There are plenty of corals like Boulder Coral, Cauliflower Coral, Lettuce Coral, and Staghorn Coral to explore.
Nelly Bay trail features eight giant clams, which are the largest living mollusks.
Start snorkeling along the highlighted line by the five yellow surface flats that provide floatation for exhausted snorkelers. You can start close to the base, then go east instead of going straight out from the sign. That's because the area has a low tide that can be challenging to negotiate.
3. Geoffrey Bay Snorkel Trail
The Geoffrey Bay Snorkel Trail is situated off Geoffrey Bay Beach.
There's plenty of marine life around the Moltke wreck, a popular German cargo ship that was sunk in 1911. When heading out of the trail, you'll come across plenty of fish and reefs around the rocky areas.
Strong swimmers can enter the water on the bay's western side and swim all the way to the buoys. The right side has various fish species, with the most popular being angel, damsel, coral trout, and cod.
To access the trail, you'll need to go to the eastern end of the beach opposite Arcadia Hotel.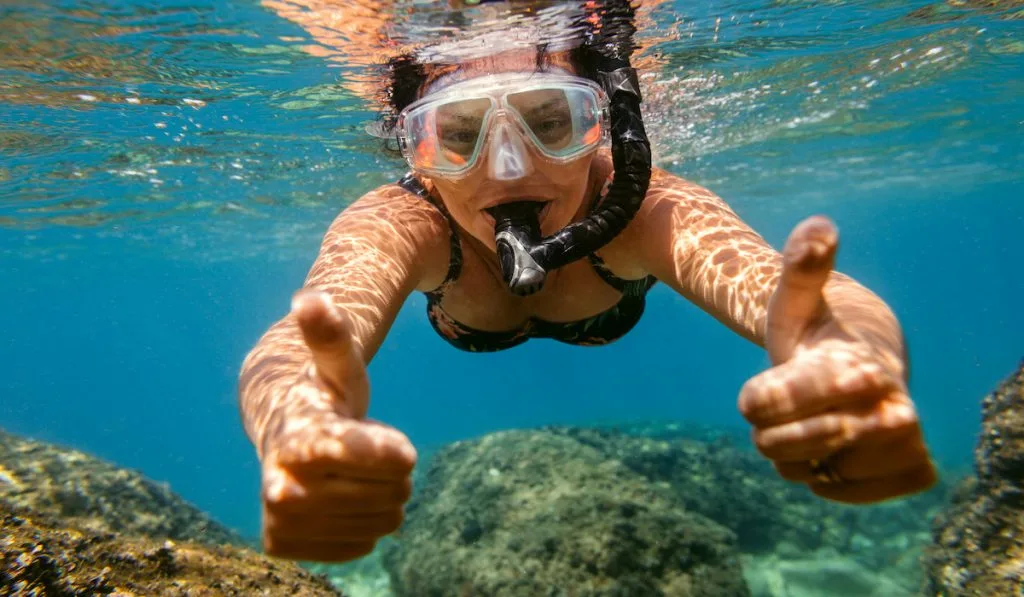 4. Picnic Bay
Picnic Bay is one of the less known snorkeling spots. Both sides of the jetty have plenty of small reef fish with scattered bommies (column-like structures).
While snorkeling, you'll come across garfish, herring, schools of pike, barramundi, reef sharks, rays, and trevally.
If you are a strong swimmer, you can venture out to the end of the jetty in the northwestern and western areas that spread out to Cockle Bay. There are bommies and abundant reef systems in this area.
As a beginner, you can get a detailed map for hire and explore the island.
5. Arthur Bay
Arthur Bay boasts of diverse marine life and colorful corals, which makes it one of the best coral viewing bays near Magnetic Island.
You can access the bay from the Forts' car park through a steep road. You'll need to park and walk when you get to the bottom of the first hill on Radical Bay Road.
Some of the snorkeling spots in the Arthur Bay area on the left side are close to the second small bay. Strong swimmers can access the shipwreck in the second bay.
6. Alma Bay
Alma Bay is fantastic for first-timers, amateur snorkelers, and for family snorkeling. The best place to snorkel is around the eastern side, which has corals and plenty of fish life.
The beach has lifeguards and is protected from Westerlies and Northerlies.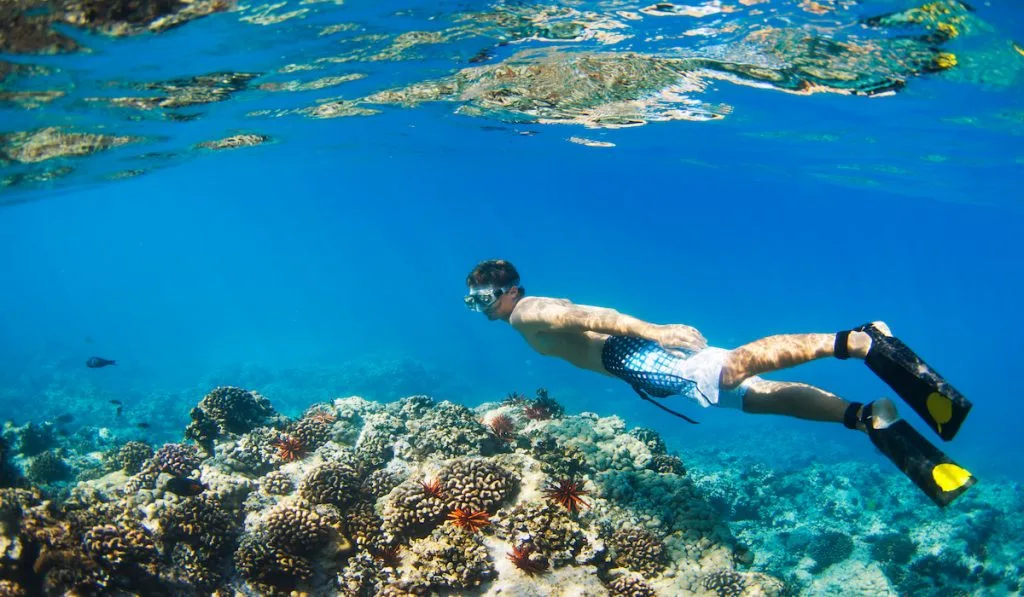 7. Fish Cove
Fish Cove boasts underwater caves, large boulders, and schools of fish. It's one of the hidden gems for snorkelers and spearfishermen.
You can also swim around the main bay at low tide for the best views.
One thing to note about Fish Cove is that it's not easy to access; you'll need to go through the walking track at the start of Horseshoe Bay.
Tips When Snorkeling Near Magnetic Island
If you're visiting Magnetic Island for the first time, here are some tips that will help you navigate through this vast island and enjoy snorkeling.
The Best Time to Visit Magnetic Island
If you're planning to go snorkeling on Magnetic Island, you should plan your trip between May and October. The temperatures are friendly, and there are no deadly jellyfish in the sea.
While you can still visit the island between November and April, you may find it challenging to swim, as there are deadly jellyfish in the sea. It's also the rainy season, and this can affect any outdoor activity.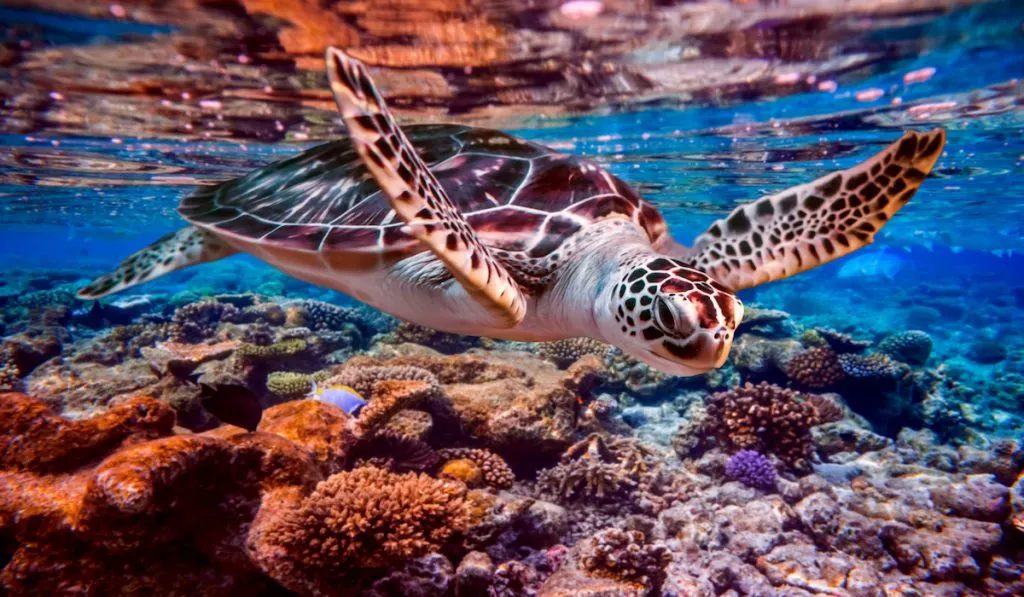 Getting to Magnetic Island
You can get to Magnetic Island by getting a barge or ferry from Townsville. The ferry takes 22 minutes. Alternatively, you can take a car over on the barge. It takes 40 minutes for the barge to get to Magnetic Island.
Getting Around Magnetic Island
There are various ways you can get around Magnetic Island. You can choose to hire a car, with the popular option being topless cars.
Electric scooters are also available for hire on Magnetic Island. You'll find some scooters that pass through Nelly Bay Road to Alma Bay.
Finding Snorkelling Equipment
You can choose to hire snorkeling gear if you didn't bring your equipment. It will cost about $25 for a full day.
There are also guided boat tours that provide gear. Boat tours are also excellent for beginners, as the crew can advise on the most accessible spots and how to get around the island.
Final Thoughts
Magnetic Island is not only a relaxing escape but also has plenty of things to do. The iconic destination has friendly locals and is considered one of the best snorkeling paradises. You'll find the waters warm, and there are lots of snorkeling spots that are easy to access with marked-out snorkel trails. Hopefully, with our tips above, you should find your snorkeling experience enjoyable and memorable.
Resources