Florida has plenty of attractions, but one factor that makes southwest Florida captivating is its seashells. Sanibel Island is home to the best shelling beaches, with over 200 types of seashells from the Caribbean regions and Mexico.
However, just landing on the beach doesn't guarantee that you'll find shells. You need to know the exact areas to find these unique shells.
Read on to learn more about where to find the best shells on Sanibel Island. We also give you some tricks and tips on how to find unique shells when crisscrossing the shores of this beautiful island.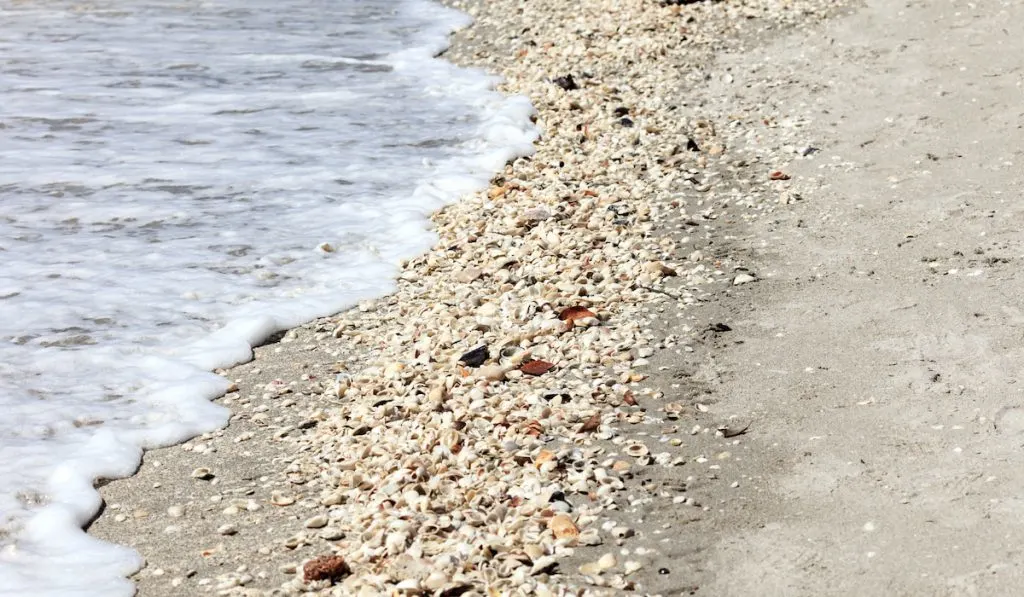 Why is Sanibel Full of Shells?
Travel and Leisure ranks Sanibel as one of the top 10 best U.S. shelling beaches, and it's for a reason. Once you get to the island, you'll realize that the sand looks like beach art due to the hundreds if not thousands of different types of shells around.
Sanibel is full of shells due to the direction the island lies. While most islands run south and north, Sanibel runs east and west allowing it to attract various types of shells. It doesn't slope off like other islands you will find on the Atlantic Coast.
The island has two types of mollusks: bivalves and univalves. Bivalves have a hinged design, while univalves have a spiral shape. You can find shells like the Junonia, lion's paws, alphabet cones, and scotch bonnets on this vast island.
Note that it's illegal to take live shells, starfish, sea urchins, or sand dollars. All live creatures should be returned to the sea.
When Is the Best Time to Go Shelling?
January to March are some of the best months to go shelling on Sanibel. Nonetheless, the weather can sometimes be limiting, especially when there are minimal winds.
Tides, moon phase, and the weather all play a role in the availability of shells on the beach.
Generally, the best time to go shelling is after a storm or when the tide is low. Low tides tend to expose sandbars, which provides a huge shell selection that you can explore. It's best to wait for the morning low tide as you'll get shells that are freshly washed ashore.
Experts recommend shelling when there's a low tide during a full moon after a storm. Although these conditions may not happen concurrently, you do have an idea of how and when to plan your shelling to ensure you're successful.
You'll need to carry a net bag or bucket and scoop when you're ready to visit the beach. Remember to wear flip-flops, a hat, and sunglasses.
The Best Places to Go Shelling on Sanibel Island
Some of the highly recommended shelling spots include:
Bowman's Beach
Bowman's Beach boasts of a wide collection of shells that gather from the Gulf of Mexico and Caribbean. The locals believe that the flow of water and its prime location makes this particular beach a shelling paradise.
Walking along the beach exposes piles of shells that collect on the grass and others are some feet up from the water. Common seashells you're likely to come across include Tulips, Cockles, Murexes, White Scallop shells, and more.
Apart from shelling, Bowman's Beach is also perfect for families with kids. There's a play area where children can play and socialize. Other amenities present include picnic tables, BBQ grills, drinking fountains, and showers.
Note that there's an entrance fee when visiting Bowman's Beach. You'll also walk for a few minutes before you get to the beach.
Blind Pass Beach
Blind Pass Beach is another spot you don't want to miss if shelling is on top of your list. The beach separates Sanibel from Captiva, and this is where shells tend to collect. Blind Pass is also a popular spot for fishermen.
The best time to visit Blind Pass Beach is during the sunrise when the shells are washed up overnight when there's a low tide. It's best to come with a scoop and be prepared to wade in the water. You can go shelling around the beach and under the bridge, where there are plenty of shells.
Parking on the Sanibel side costs $5 an hour, while on the Turner Beach it's also $5 an hour, but comes with a shower and restrooms,
Lighthouse Beach
The Lighthouse Beach extends through the entire tip of the island, which makes it a fantastic spot to spend your day. Beaches on the south shore have excellent shelling and unique views of Fort Myers Beach.
Accessibility to Lighthouse Beach is good and there's plenty of parking that only costs $5 an hour. There are also showers and restrooms. You'll find shelling here fine if you get there at first light and dig around.
Note that the beach tends to get heavy traffic and shells get picked early.
Extra Tips for Sanibel Shelling
Shelling in Sanibel is exciting and knowing how to wade through the Island will help you find unique shells. Here are a few tips on how to have the best shelling experience in Sanibel.
Live Creatures Should Not be Picked
Avoid picking live shells, if you find the shell has a hardcover over the opening. Starfish and Sand dollars are also considered live animals.
There's a huge fine if you are caught taking live shells from the beaches. When you find live shells, throw them back in the water. Also, avoid buying seashells in stores because some kill the animals and take shells.
Always Go Early
You'll get the best shells when you are an early bird. Wake up at sunrise after a heavy storm to get unique shells. Remember to bring along a net bag or a bucket and a scoop.
Carrying Your Shells Home
Getting your shells home is one way to remember your shelling experience at Sanibel. Ensure that you clean them and check that they don't have barnacles. You can soak them in a solution of bleach and water to get rid of the smell. Place them on a towel to dry.
Pack your shells in bubble wrap, toilet paper, or towel before putting them in your luggage.
Final Thoughts
Sanibel Island is a must-visit if you're looking for an exciting shelling expedition. With sandy beaches filled with over 250 shell types, you're guaranteed to collect unique shells.
You can find good shells at the Blind Pass and Lighthouse Beaches due to their location. With our tips above, you should have a great experience at this vast island.
Resources