Magnetic Island is an island well known for its distinctive environment and picturesque landscape featuring hoop pines, sandy beaches, fringing coral reefs, and large granite boulders. The exquisite island is located five miles offshore from the city of Townsville, Queensland, Australia and it has become a permanent home to 2,335 residents.
The island is a holiday destination with several resorts and hotels in operation and is a haven for wildlife. Beautiful white sand, abundant marine life, and an amazing relaxed island vibe are just snippets of the wonders of the magnetic island which is also known as 'Maggie' to the locals.
Despite having five main beaches, the island is home to twenty-three official bays and beaches, some of which are accessible only by water or hike.
If you're an ocean lover or just enjoy going on amazing adventures, this island should definitely be at the top of your dream destinations list, and with so many gorgeous beaches to choose from, it is expected that you'll be a little confused about which beach to pick.
This guide is sure to help you navigate your way around Magnetic Island and its wonderful beaches.
1. Alma Bay
Located in Arcadia, Alma bay is probably the most popular swimming spot on the island. Arcadia is situated in the smallest bay on the magnetic island and is surrounded by Alma bay and Geoffrey bay.
Alma bay is a small picturesque bay that is often calm and mostly receives waves when the south-easterlies are blowing. The beach is surrounded by enormous granite boulders, white soft sand, and sparkling water. The granite boulders encompass small rock pools along the edges which you can hideaway in on a clear day.
The bay consists of a kids' playground, gazebos, restrooms, a large grass area, a basketball court, and free barbecues.
A good thing to keep in mind before picking the beach as your destination is the stinger season. While this season fluctuates each year, it occurs mostly in the months between November and May. You should be careful when swimming or snorkeling around the rocks as waves can surge and break over them.
Alma bay is patrolled year-round by lifeguards with red and yellow flags to mark the safest swimming area for tourists.
2. Horseshoe Bay
Horseshoe Bay, which is located on the north side of Magnetic Island, is sandwiched between Balding Bay and Lover's Bay. It is the largest bay on Magnetic Island and was named for its curved, nearly two-mile-long horseshoe-shaped beach.
Arguably the most popular beach, Horseshoe Bay is the premier location for water sports on Magnetic Island offering activities such as kayaking, jet-skiing, stand-up paddleboarding, fishing, and sailing.
The bay is also home to plenty of marine life. You can often spot turtles, dugongs, dolphins, and rays from the shore, and during the annual whale migration, it isn't out of place to see the large whales playing inside the bay.
Horseshoe Bay is the perfect place to capture an epic sunset on Magnetic Island. It is home to a number of cafes, restaurants, picnic tables, and a popular cavern.
The bay has basically every facility you can think of on the island so you'll be content if this is the only bay you make it to.
3. Picnic Bay
Picnic bay is the bay located on the southernmost corner of Magnetic Island where the town is located. It was once the main hub of Magnetic Island and it is still a great location to enjoy a relaxing swim, try your luck at fishing off the jetty or simply sit and watch the sunset while taking in the views of the Townsville coastline in the distance.
Snorkeling is also a popular way to explore the stunning marine life of Picnic Bay or see what you can spot from above while taking a stroll along the jetty. If you're lucky, you may spot a dugong or even a turtle.
The only golf course on Magnetic Island is located in Picnic Bay. A game of golf on the bay will be an unforgettable experience with breathtaking views and curious wildlife including koalas, wallabies, and birdlife.
The facilities available at Picnic Bay are restrooms, barbecues, and a fully fenced playground.
The beachfront is patrolled by lifeguards during the summer school holidays.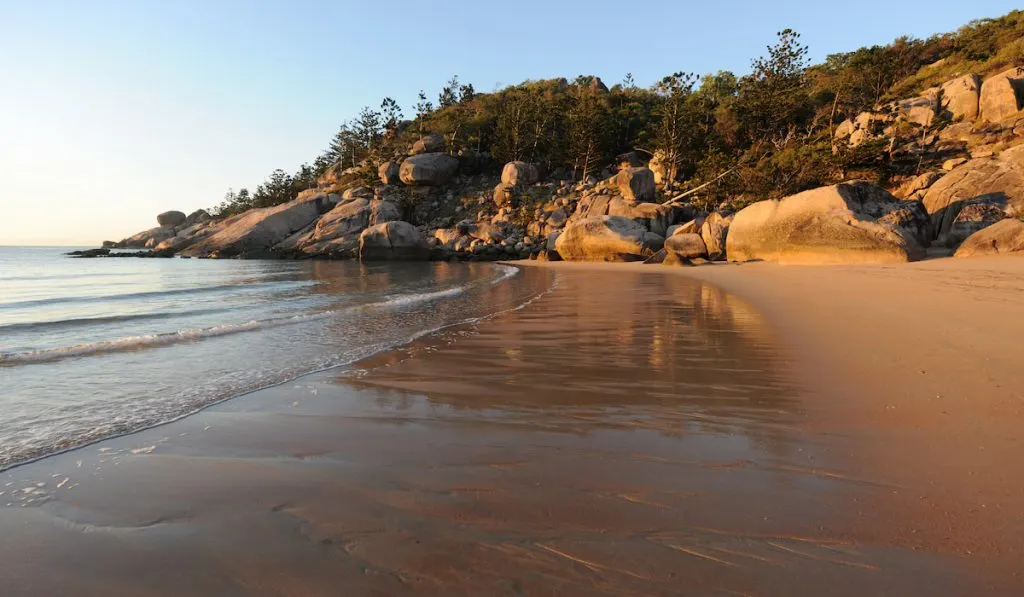 4. Nelly Bay
The beach at Nelly bay is one mile long and it is the main hub of Magnetic Island. It is home to many of the island residents and the bay is sheltered so the water is calm with small waves rolling in.
This beach offers easy access to one of the snorkel trails at the northern end. You can snorkel over the reefs at high tide and wade only at low tide. The coral reef is home to many different species of fish marked with yellow surface floats.
Nelly Bay, which has a great walking path by the beach, is a perfect destination for a tropical getaway. While the bay isn't the most beautiful beach on Magnetic Island, it is relatively clean with lots of places to grab a meal or drink nearby.
All the facilities in this bay are located at the northern end of the beach and include a playground, picnic tables, restrooms, barbecues, and shelters.
Nelly Bay is not patrolled.
5. Geoffrey Bay
Geoffrey Bay, which stretches out the length of Arcadia is a top spot on Magnetic Island. This bay is a historic staple to the island with the original car ferry ramp and it is of similar size to Nelly Bay beach.
The activities at Geoffrey Bay are suited to all age groups as the water is very shallow even during high tide. There is another snorkel trail in the Geoffrey Bay that leads you to the Moltke wreck, remains of a Curtiss Wright CW222 plane, and maybe even sea turtles.
Geoffrey Bay is also home to friendly rock wallabies that can often be seen around sunrise and sunset jumping from rock to rock and greeting tourists.
There are no public restrooms or barbecues along this beach and there is no lifeguard either.
Tips to take note of before visiting the beaches on Magnetic Island
1. The deadly stingers arrive in the summer months from November to May. If you're swimming there during that period, try to wear a stinger suit and stick to Alma Bay where lifeguards are deployed.
2. The west side of the island is a breeding ground for tiger sharks and occasionally crocodiles.
3. Always wear sunscreen and stay hydrated.
Resources