Airlie Beach is an extremely popular vacation destination, and for good reason. Located on the coastal shores of Queensland, Australia, Airlie Beach is more than just an ocean town.
Sure, you can enjoy the beach, soak up the sun, and relax in a resort, but there is more to do in this saltwater paradise than meets the eye. So pack those summer clothes, remember to bring your sunscreen, and get to Airlie Beach as soon as you can.
Here are 17 unusual things to do in Airlie Beach in 2022.
Hang Out in the Lagoon
One unusual thing you can do on Airlie Beach in 2022 is visit the Airlie Beach Lagoon. How many people can say they hung out at or swam in a lagoon?
The Airlie Beach Lagoon is a great place to relax and hang out with family and friends while vacationing. It is the perfect place to enjoy breathtakingly clear blue water without being on the busy beach.
The lagoon has a kiddie pool area, so small kids can enjoy the water as well. Visitors can have a BBQ, have a picnic, sunbathe, or go for a swim in the gorgeous lagoon.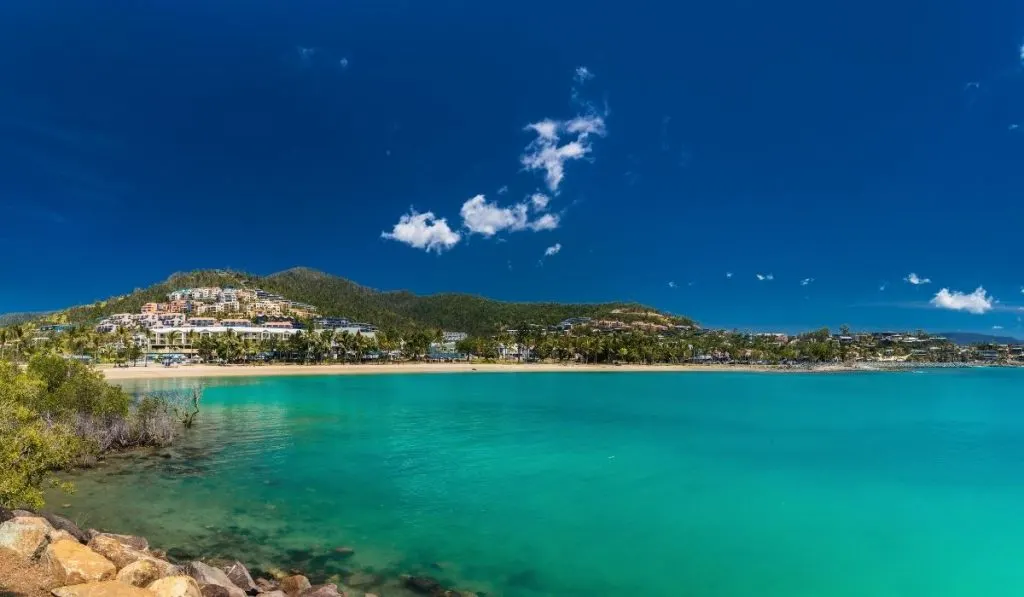 Go on an Aerobatic Adventure Flight
This may be perhaps the most adventurous and unusual Airlie Beach activity on the list. CQ Adventure Flights in Airlie Beach offers one of the most exciting experiences you may never even dream about.
Tourists get the opportunity to ride as a "co-pilot" on a Yak52, which is an airplane that was used to train Soviet Air Force cadets. The company offers three different packages, each becoming more aerobatic and exciting than the previous one.
This truly seems like a once-in-a-lifetime opportunity, and the views are absolutely breathtaking. Participants will definitely mark this down as one of the most unusual and exhilarating experiences of their lives.
Spend the Night in the Reef
Sleeping in the Great Barrier Reef may not have been on your bucket list, but it definitely should be now. It sounds like an unusual thing to do in Airlie Beach in 2022, but it also looks like it will be an experience like none other.
At Reefworld Pontoon, Airlie Beach visitors can rent a room that sits underwater and features a full glass-wall view of the water and ocean life.
Not only do you get to sleep in an amazing room, but you can also go on a submarine tour, visit an underwater observation room, go snorkeling, and even go scuba diving.
The Reefworld Pontoon is only about 40 nautical miles from Airlie Beach, but a short scenic boat ride will get you there in no time.
Go for a Segway Trail Tour
Segways may seem unusual to many people who have not ridden one before, but they are commonplace in Airlie Beach. They are popular with the Whitsunday Segway Tour group.
Tourists can book spots on Segway tours to travel all around Airlie Beach without breaking a sweat. They offer several tour packages – some even include jet ski rentals.
Even those unfamiliar with Segways will find them rather easy to maneuver, and they allow riders to cover a lot more ground than you can when you walk. Segways get you up close and personal to the natural aspects of Airlie Beach, but with a mechanical twist.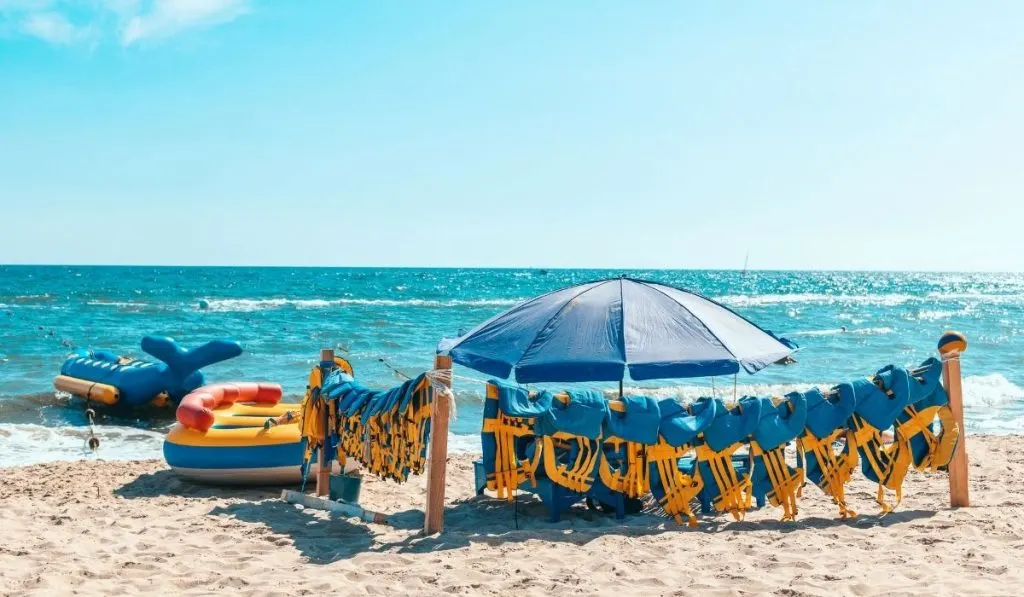 Enjoy a Rafting Tour
Many people have gone rafting on rivers, but have you ever been rafting on the ocean? It may sound like an unusual thing to do in Airlie Beach in 2022, but do not let that deter you.
The Ocean Rafting group offers several fun-filled ocean rafting adventures that visitors definitely need to experience.
The rafts are larger than the small-group river rafts many people are familiar with. These rafts can carry several people, and they stop periodically for snorkeling adventures.
Ride a Tuk Tuk
Riding a tuk tuk is a very unusual thing to do, but do not let that dissuade you from enjoying the tuk-tuk experience in Airlie Beach in 2022. The tuk tuk in Airlie Beach is a bike-driven cart that carries up to two passengers.
Just Tuk'n Around offers several tuk tuk tours that go all around town. The tuk tuk drivers know the ins and outs of the region, so they can show passengers the best town hot-spots. These tuk tuks also have some electrical assistance, so passengers do not have to worry about their drivers running out of steam.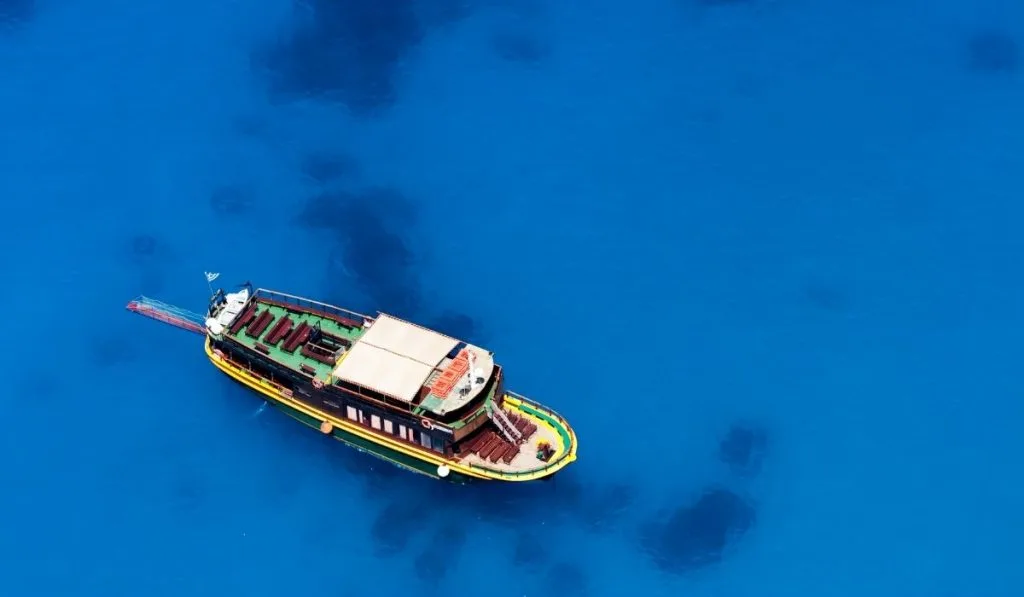 Go on a Paradise Explorer
The Paradise Explorer is a boat tour that takes tourists on an approximately eight-hour trip. It is definitely unusual, but if you are in Airlie Beach in 2022, you should check it out.
Visitors get to visit two different islands along the journey. A guide will tell them practically everything there is to know about the history of the area.
Tourists will walk through a cave, learn about the aboriginal culture of the area, learn how to spearfish, and enjoy a breathtaking and scenic journey along the way.
Go Skydiving
Skydiving is an unusual activity in most places, so just imagine how unusual and exhilarating it will be in Australia's Airlie Beach. Skydive Australia offers a tropical skydive experience directly over Airlie Beach.
Participants will skydive from a plane at 15,000 feet in the air, and their coast-filled view while diving will be undeniably gorgeous. The company films the entire trip down, so you will have a record of your experience.
Do Exotic Birdwatching
Bird watching is not the first thing that you may think of when you plan your Airlie Beach vacation, but you should definitely add it to the list. Bird watching is free and a little unusual to some, yet it is almost always extremely rewarding.
These are just a few of the many birds that one could see at Airlie Beach. The bird watching in Airlie Beach is unique.
Cruise in the Wetlands with Crocodiles
Hanging out with crocodiles is rather unusual. However, it is more than worth the trip. Tourists in Airlie Beach can go on a Crocodile Watching Cruise and head out to Proserpine River on a tour through the wetlands and forestry terrain.
Shockingly, more than 100 crocodiles call the Proserpine River home, so you will undoubtedly see at least one on this excursion. Beyond that, expect to see gorgeous birds, marine life, and reptiles along the journey.
The entire trip lasts almost seven hours, and tourists get a full two hours to look for crocodiles.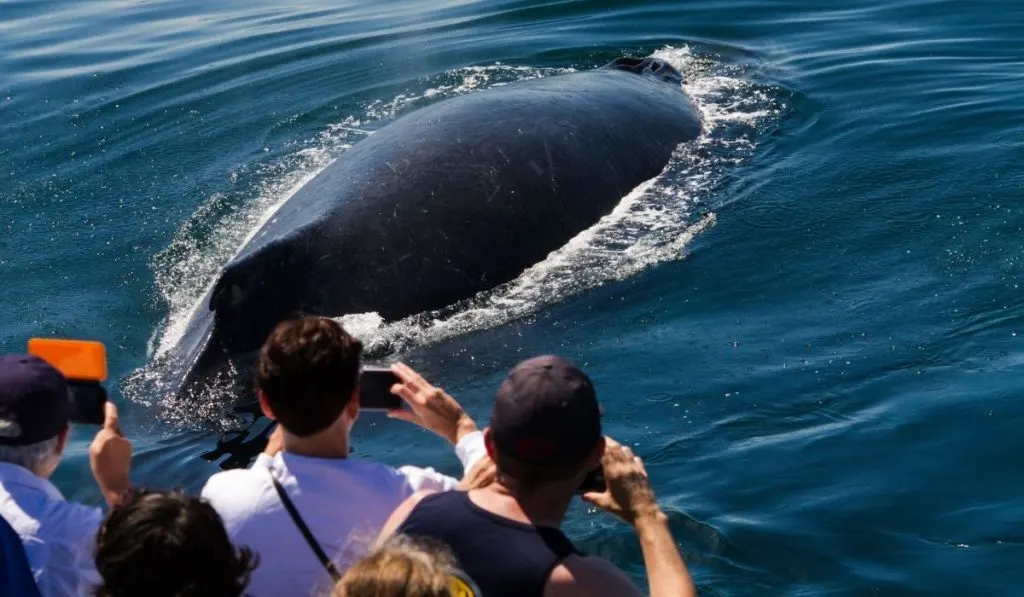 Do Some Whale Watching
Tourists can do something extremely unusual, visit Airlie Beach and actually see some whales up close and personal. Whale Watching Whitsundays takes participants on an environmentally-friendly trip to view humpback whales in their natural habitat.
According to the company, humpback whales prefer the Great Barrier Reef as the place to have and raise their young. This provides a unique experience of seeing these whales regularly from July to October.
Enjoy a Glass-Bottom Boat Tour
Another unusual thing to do in Airlie Beach is to take a trip on a boat with a glass bottom. The Airlie Beach Glass Bottom Boat Tour takes passengers on a one-of-a-kind trip to the Great Barrier Reef.
The glass bottom of the boat allows passengers to see what is underneath them without having to get wet. This is a fantastic option for people and kids who are not snorkeling or scuba-diving fans.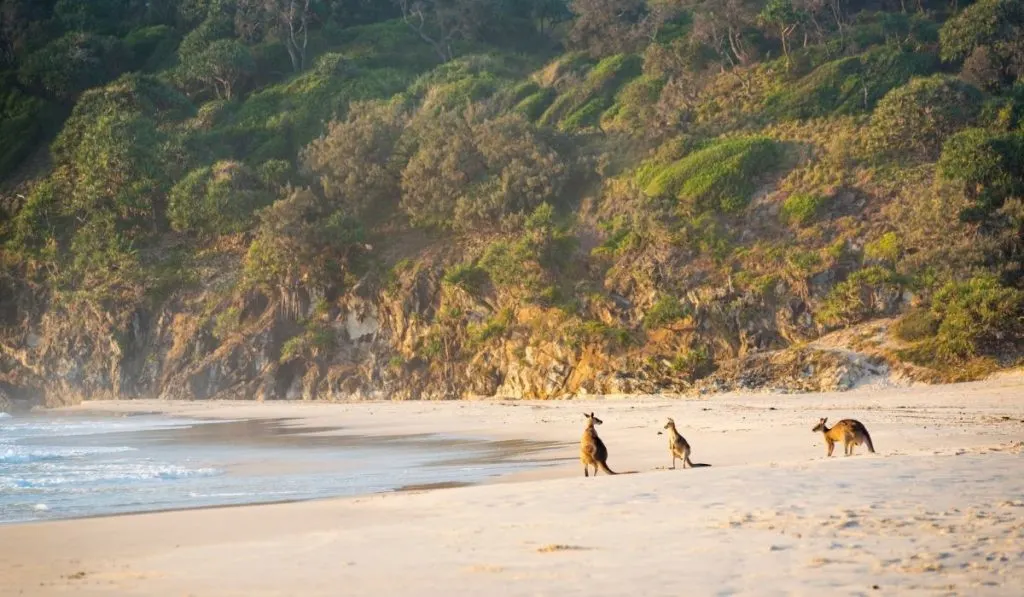 Watch Kangaroos Hop Around the Beach
Not many people can say they were able to watch kangaroos on the beach – unless you live in Australia, of course. It does sound like an unusual thing to do in Airlie Beach, even in 2022.
The tour includes breakfast, a trip to an animal sanctuary, and a guided trek through Cape Hillsborough National Park.
Trek Around on a Trike
Airlie Beach Trike Tours offers tourists an unusual yet extremely fun opportunity to go on a trike tour with a personal guide. If you have not seen or ridden a trike before, you are in for a real treat.
A trike is essentially a motorcycle with two back tires that has room for two passengers. Trips are customizable, and the guide will take passengers basically anywhere they want to go in Airlie Beach.
The company offers various package choices, including a short lap, a full day of trekking, and even a special occasion option for engagements, birthdays, weddings, and honeymoons.
Enjoy an Overnight Sailing Trip
Sailing itself is not unusual on a beach; however, staying overnight is a little out of the ordinary. Airlie Beach has several locally-operated sailing professionals that offer overnight sailing trips for tourists.
Tourists can choose one-, two-, three-, or four-night sailing trips depending on how long they want to be gone. Many of the trips include snorkeling opportunities as well.
Sailing is different from cruises or rafting trips, so staying overnight allows participants to experience sailing for real. This is an unusual opportunity that tourists should not pass up.
Play With Koalas
Visitors to Airlie Beach can visit the Lone Pine Koala Sanctuary to do something extremely unusual – cuddle with koalas. At this sanctuary, visitors can go on the Koala Discovery Tour for a one-hour experience to spend time with koalas.
You actually get to hold a real, live koala and have a picture taken to commemorate the moment. Kids that are at least 12 years old can participate.
After connecting with a koala, you can enjoy 30 minutes with an owl keeper, where you have a chance to hold an owl with your gloved hand. Of course, you will get a picture of that as well.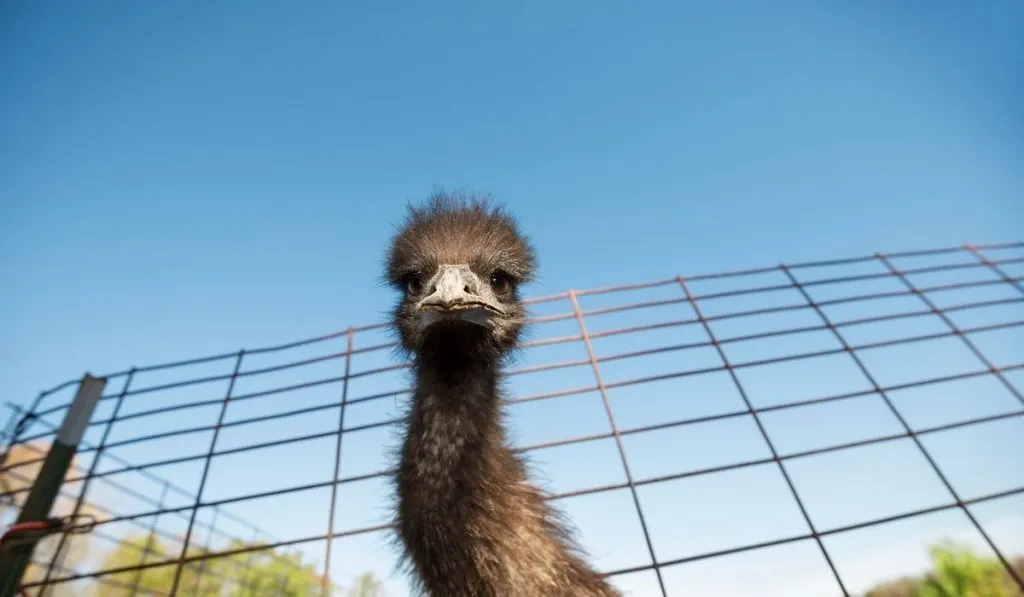 Visit a Wild Farm
One of the most unusual things to do in Airlie Beach in 2022 is to visit Bredl's Wild Farm. The farm offers a tour that includes several unique interactions with different animals.
Visitors can feed kangaroos, pat wombats, hold baby-sized crocodiles, stare down an Emu bird, feed a Cassowary, and wrestle with lizards and boa constrictors.
Final Thoughts
These may not be things that you were expecting to do in 2022 when you visit Airlie Beach, but that is what makes Airlie Beach so utterly spectacular.
Between snuggling with Koalas, walking in a rainforest, and more, the memories you make in Airlie Beach will be like none other you have made before. There are so many unusual things to do in Airlie Beach!