Time to start planning our summer vacations! Coming out of a harsh winter full of bipolar weather here in Utah—seventy degrees one day, snowing the next—we are taunted into anticipating the warm weather we crave.
But now, the warm weather is becoming a reality. This week, the first official day of spring came and went, and we are already seeing progress.
Cross your fingers for no more snow! Spring is here, and you may be recently back from spring break or about to go out on yours.
Returning to winterish weather is a letdown. After a week of pure relaxation or days full of fun activities, it's hard coming back to the grueling work schedule you didn't realize was so tiring until you were given a break. You're tired, and you're already fantasizing about your next vacation.
The kids get out of school at the end of May or early June, and you've got vacation days to spend and money you've been saving up. How does a two-week trip to Spain sound?
Or perhaps you need to get out of town, now! You need a break, or you've got spring break in the next couple of weeks. You're feeling spontaneous, and all of a sudden, you think, how about a spring break trip to Spain? You want somewhere warm, a change of scenery, a new culture to experience, and new food and new people. Spain is the perfect place to go!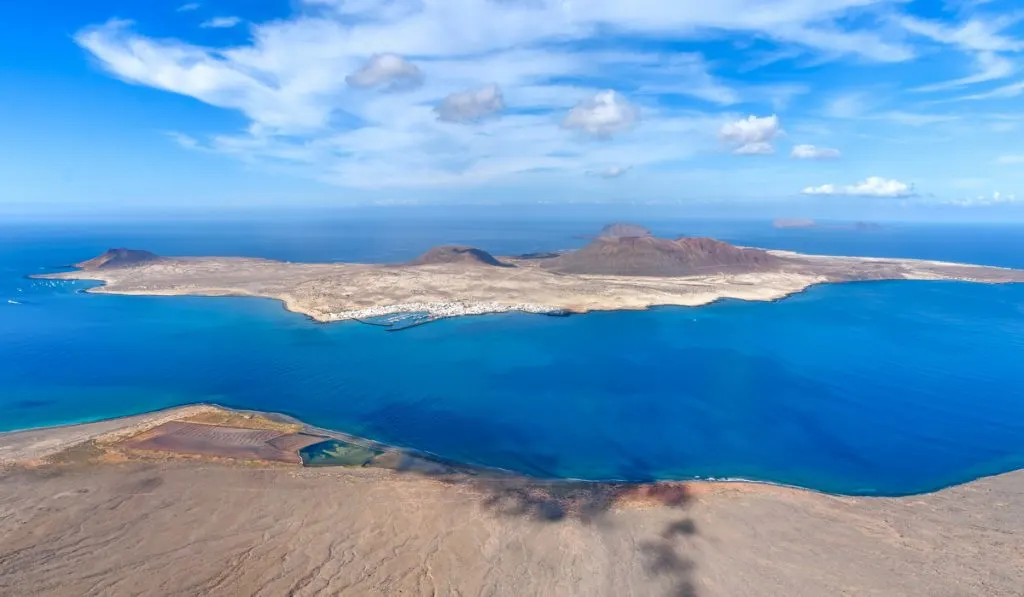 You do some research. You've heard of the Canary Islands, but you've never known where they were until now. The Canary Islands are in Spain? The gorgeous beaches, the rocky cliffs, the turquoise waters. Take me now! You buy your tickets to Spain and plan to spend at least a day in the gorgeous Canary Islands. But planning out the logistics of your trip is baffling you.
In Spain, you can easily use the train, taxis, rent a car, or rent bicycles to get around the cities and tour the country. But the Canary Islands are off the coast of Spain.
How do you get to them? You can't drive, can't take a train, or ride a bicycle through the ocean! You don't want to limit your trip to just the Canary Islands, as there are some cities and other sights that are on your list on the mainland. But you'd love to experience that tropical-feeling paradise and the luxurious relaxation of a beach day on the Canary Islands.
You need help, and that's why you've turned to us. Well, we can help you figure out exactly what you need.
We understand the need for a vacation, and we're glad that you are willing to use your vacation days to go on this trip! Many people hoard their vacation days and never use them, always waiting for a bigger trip. But if you're always waiting, you'll never go on one. You've been working hard for so long, and so has your family– you all deserve a break and one in such an exciting location as Spain!
This trip will be amazing for you and your kids, giving you a new perspective on life experience, new places, culture, people, and of course, food! Read on to learn more about La Graciosa of the Canary Islands, how to access it, and what else you can do while on the island!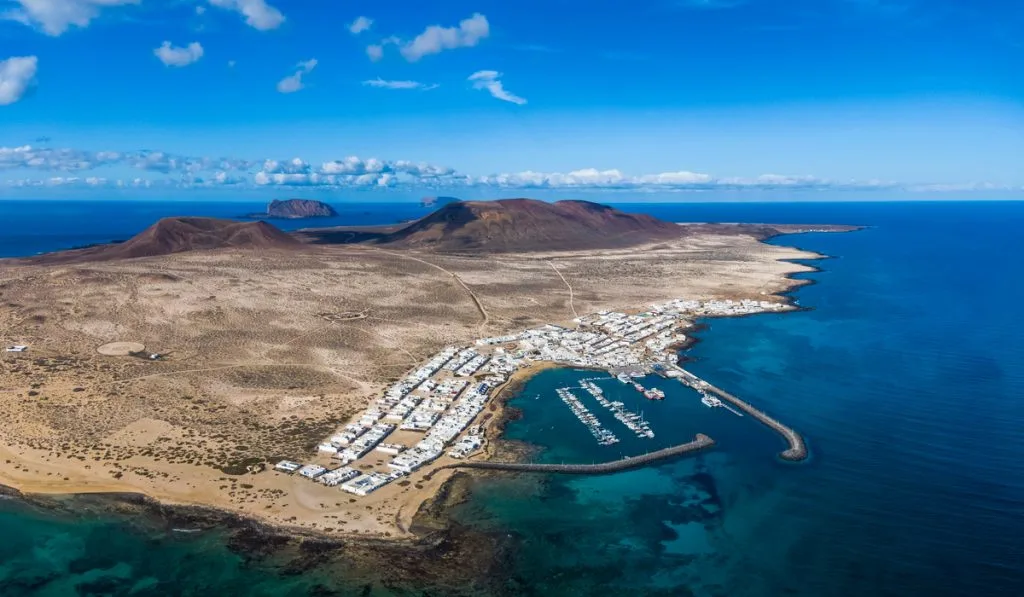 Where Is La Graciosa?
La Graciosa is the eighth island of the Canary Islands, located off the coast of Spain. La Graciosa is a fishing town, and in visiting, you can experience the quaint white-washed buildings of a Spanish fishing village with all of its small-town charm and elegance.
Another feature of La Graciosa is the embracing of nature and leaving so much of today's modern technology and architecture behind. Rather than paved roads, La Graciosa has sandy trails. Traveling around this island can only be done on foot or by bike– no buses, cars, or trains!
Modern life has been left in the future as you travel back in time to this peaceful, simple village and the simple life associated with it. You may never want to go back to the hustle and bustle of American corporations ever again!
How Do You Get to the Island?
The simplest way is by boat. La Graciosa is only twenty-five to thirty minutes away from the next closest Canary Island, Lanzarote. A boat is essentially the only way to access the island. There is no airport or hangar for flight, as it's just a simple fishing town. There is a small heliport that is used in emergencies, but unless it's an emergency, you can't use it! So a boat or ferry to La Graciosa's port, Caleta de Sobo, is your only option.
Lanzarote is the easiest of the Canary Islands to access from the mainland. It has multiple ferries that run multiple times a day out of its port, Orzola. You can look up specific times in your research of the different islands and their ferry systems.
The cost of a ferry is typically around fourteen euros. If you look up 'Orzola ferries to La Graciosa,' you should find the information you need.
Typically, ferries run fifteen times a day, year-round, so there's no need to stress about being there at a specific time– if you miss the ferry, you can catch the next one! It leaves a lot up to your preferences and schedule, letting you decide what time you want to leave and for how long, which is always nice. It's your vacation, you shouldn't be stressing or rushing at all!
What about how to get to La Graciosa from mainland Spain? Well, you can't. Not directly.
You have to first go through Lanzarote. You can travel to Lanzarote on a ferry as well in Huelva and Cadiz, but they're only weekly crossings, so you will need to plan your trip accordingly.
Otherwise, you can fly! You can't fly directly to La Graciosa, but you can fly to Lanzarote. If flying to Lanzarote, then ferrying to La Graciosa is too many steps for you and your family, perhaps consider staying on Lanzarote instead.
It all depends on what you want to spend your time doing most. If you want to only spend a little time on the Canary Islands and the rest touring the mainland, then you'll want to stay on the mainland. But, if you want to be able to relax and seclude yourself on the golden Canary Island beaches, then Lanzarote is your best bet.
While on La Graciosa…
There's so much to do! With its volcanic composition, the island has four volcanic peaks, making it ideal for hiking or mountain biking. You can cycle on the sand trails and soak in the beauty of the island.
Remember, there are no paved trails, so you'll be in the middle of nature in its best form! There are birds indigenous to the island, such as the Bulwer Petrels, Gulls, and Silver Worms, plus plants that can survive the dryness of the area.
You can explore the fishing town and the shops, try the food, meet people, watch people, and observe natives going about their business.
And of course, there are all the water activities! With gorgeous golden beaches and turquoise waters, you can lay out on the beach for a perfect beach day, swim in the waters, or surf! The world is your oyster when you're on La Graciosa!
COVID-19 Impact on La Graciosa
As of 2022, there are no travel restrictions on ferrying from the mainland to Lanzarote, or from Lanzarote to La Graciosa. You can island-hop to your heart's content! Ferries are one of the most COVID-friendly methods of travel, as it is open to the outside (there is no roof), so you're not in a contained space with a bunch of other people.
However, traveling internationally to Spain requires some documentation. You'll need to fill out a Health Form and submit either your vaccination card proving full vaccination against COVID-19, a COVID test submitted seventy-two hours before your arrival in Spain, or, if you have been exposed in the past, a certificate proving you have recovered from the COVID-19 virus and are no longer positive, which must have been issued a hundred and eighty days before your arrival in Spain.
Resources