Grand Turk Island is one of the Turks and Caicos Islands in the Atlantic Ocean off the coast of the Dominican Republic. Turks and Caicos is an overseas British territory with an area of only about 37 miles.
Out of its 40 islands and cays, 28 are still uninhabited.
Great Turk Island is a small island with an area of about 7 square miles. The capital Cockburn Town is also located on Grand Turk Island.
Most of the countries historical and administrative buildings are located here. Whereas the rest of the island is dotted with salina sites, historical buildings, resorts, and hotels.
Grand Turk Island receives thousands of visitors annually who are attracted by the warm tropical climate and white sandy beaches with turquoise blue waters. It's a thriving tourism hub for divers, snorkelers, and beach lovers from all around the world.
If you are planning to visit this tropical heaven, this detailed travel guide is going to help you a lot in planning your trip.
History
Indigenous Taino people inhabited the island when Christopher Columbus landed there in 1492. The name Turk was first coined by indigenous leaders derived from the name of a mushroom found on the Island.
Indigenous population disappeared around the 1500s and then rule passed from Spain to France then finally to England. The British administered these lands under the Bahamian Government. During this period salt industry flourished on the Island.
You can still visit Salt ponds or Salinas (as they are locally called) scattered around the Island. The British colony, however, had little appeal for tourists and hence remained mostly unknown until the late seventies.
After the independence of Jamaica in 1962, the British made Turk and Caicos their official colony in 1973. Cockburn Town was established as the capital which is part of Grand Turk.
The country's supreme court and other important government offices are located here although most of the administrative focus has shifted to the bigger island Providenciales in recent years.
Today Grand Turk is one of the most popular cruise stops in the Caribbean. A new airport Grand Turks JAGs McCartney International Airport was built to facilitate the growth of the tourism industry.
How to Get There
Cruise ships and airplanes are the two most common methods used to arrive at Grand Turk Island.
Flying
Grand Turk Island has the Grand Turks JAGs McCartney International Airport. Despite its name, it does not cater any international flights.
All international flights land at Providenciales International Airport and then you'll have to take a 20 minute domestic flight to Grand Turks airport. Two local airlines offer multiple flights every day.
All major American airlines offer daily or weekly flights to Providenciales from airports in New York, Miami, Boston, and Philadelphia. You can also book a direct flight from Toronto Canada.
Ship
Grand Turk Cruise Center is a port for cruise ships and is located at cruise center beach (Sunray beach). Grand Turk has one of those beautiful beaches where tourists can swim right next to their cruise ships.
Currently, many Cruise Lines offer trips to Grand Turk Island, Including Carnival Cruise Line, Holland America Line, and Royal Caribbean International among others.
Ferry
Grand Turk Island is separated from Caicos Island by 40 miles of the sea called Turk Island passage. Currently, no ferries are operating except a few to the salt cay.
Tourists can also visit with their own boats after proper paperwork and permission from the harbormaster.
Planning Your Trip
Weather & Climate:
All the Islands of Turk and Caicos have a tropical climate. Grand Turk has a drier climate compared to other Caribbean islands, but it does not mean that humidity is low here.
The average air temperature in summer is about 80 F – 90 F and even higher sometimes. Night temperatures are comfortable especially during the summers.
Temperature falls about 10 to 20 degrees in winter but it rarely gets uncomfortably cold.
Like with all other Caribbean Islands, be prepared for tropical storms and hurricanes if you are visiting between July and September.
Best Time to Visit:
February to May are the best months to visit Grand Turk. You can enjoy tropical spring & summer at beautiful beaches doing water sports.
Arrival:
Airport: The airport is located on the southern end of Grand Turk. Many domestic flights from Provo Island land each day at Grand Turk Airport. Parking is free and there are several restaurants and shops near the airport.
Cruise: Grant Turk cruise center is a new complex with lots of gift shops, restaurants, and a big Margaritaville. Cruise companies take care of the visa and immigration process so you won't have any issues.
Rental vehicle services and taxis are easily available outside the airport and cruise center.
Getting Around (i.e. bus, cab, car rental, etc.):
Grand Turk Island doesn't have a public transport system. So, tourists either rent a vehicle or hire a taxi for getting around.
Taxi is the most common mode of transport. You can easily find a taxi outside the airport or cruise center and they usually charge per person.
Many renting companies operate all over the Island. You can rent a car, jeep, scooters, bicycle, or golf cart. The speed limit around the town is only 20mph.
Many island attractions like Grand Turk Museum and popular restaurants are present on just a mile-long strip. So, you can easily explore Cockburn Town on foot.
Some hotels also provide guided bus tours.
Since cruises only stay for 5-6 hours on Island renting a cab or jeep is the best option for such a limited time. But if you have plans to stay longer, try taking a bicycle ride around the town.
Language
English is the primary and official language of Grand Turks Island. A minority of people also speak Spanish and Creole language.
Currency
The U.S Dollar is the official currency of the Turks and Caicos Islands.
Top 3 Things to Do
With turquoise pristine beaches and a backdrop of British Historical elements, Grand Turk is an interesting place to explore. It's a small island packed with a lot of Caribbean action.
It's a place to get away from the hustle & bustle of big cities. So, relax, rejuvenate yourself and enjoy the beauty of nature in full glory. We made a list of 3 things for you to do when you are on Grand Turk Island.
1. Sightseeing
Beaches around Grand Turk Island are so beautiful, you will instantly fall in love with the place. Crystal clear water, white sand, and barrier reefs make an ideal picture of a tropical Caribbean getaway spot.
Enjoy your day from sunrise to sunset at Governer's Beach, Pillory Beach, Sunray Beach, and White Sand Beach for a memorable tropical experience.
Along with beaches, there are many historical locations to visit when you are here:
Duke Street and Queen Street have many amazing buildings with British Bermudian-era architecture. The Front Street boasts some government offices & Her Majesty's Prison. There is also a privately run museum, which exhibits the history of the Island from the time of the Tinos people to the recent era.

The Grand Turk Lighthouse is another popular tourists destination. This lighthouse was commissioned by the British government, it's no longer in use but surrounding grounds are open for the public to explore.

For many centuries sea salt production was the primary business in Turk and Caicos Islands. In later years when the industry got organized, many salt evaporation ponds were made. Which are called 'Salinas' by locals. Many Salinas are still found all over these Islands. Tourists love to visit and capture these red picturesque ponds. One of the most popular Salina 'Hawkes Nest' is located near the capital Cockburn Town.
2. Snorkeling and Diving
There are many locations around Grand Turk for snorkelers. But the best snorkeling sites are a little away from Island beaches. Just a short boat ride away you can find an abundance of colorful fish, coral, and sea life in shallow waters.

Gibbs Cay is a small island off the coast of main Grand Turk Island, it has the most beautiful snorkeling waters and white sand beaches. These clear waters have an abundance of majestic stingrays that love to meet tourists. A perfect location if you want to swim alongside friendly sea life. Many local companies offer trips to Gibbs Cay for snorkeling.

Grand Turk has incredible wall sites, that make it a top location for scuba diving enthusiasts. These are marvelous, abrupt, and almost vertical depths hence the term wall. Not only are these walls just minutes away from the beach, but they are also lush with corals and filled with amazing sea life.
Some popular diving sites are West Caicos National Park and French Cay. You will find a great diversity of fish, turtles, stingrays, and corals in the waters. The area also has high underwater visibility. There are several diving companies on the island, you can visit their offices or make a prior booking via the internet. Remember that you will need a dive certification before you go scuba diving.
The barrier reef around Turk and Caicos Islands caused many ships to sink over time starting from the era of Christopher Colombus. Some of the shipwrecks are still found around the country. These sunken treasures of Grand Turk are a big attraction for scuba divers. Two well-known shipwrecks are the British gun warship HMS Endymion and a cassena plane; The Lady.
3. Water Sports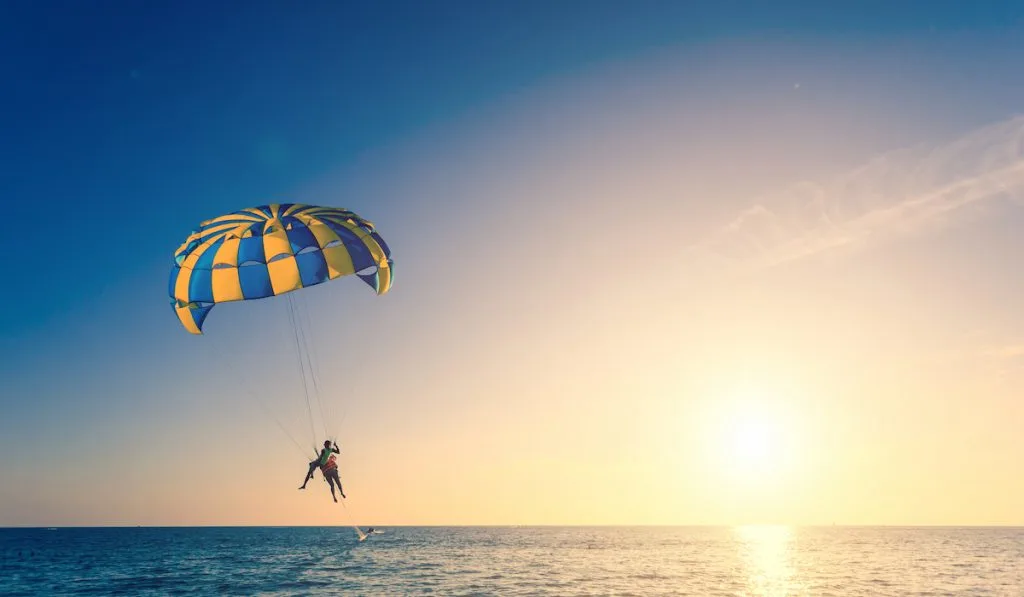 There is a lot to do if you are a water sports fan. Many adventure companies provide a variety of water sports such as jet ski, parasailing, kayaking, kiteboarding, and flow riding.
Whale sighting is also a popular activity in winter when the humpback whales come here during the annual migration.
Top 3 Places to Eat & Drink
Grand Turk Island has a limited selection of places to eat and drink. Restaurants are only in Cockburn's Town and around the cruise port, where you get American, Mexican, and Jamaican cuisine.
We recommend the following 3 places for a casual island dining experience:
1. Jack's Shack Beach Bar and Grill:
It's less than a mile from Grand Turk Cruise port and offers a very nice selection of wines and fast food, as well as seafood for lunch with seating under mojito huts. They also offer Free Rum with a prior booking.
2. Jimmy Buffet's Margaritaville:
Grand Turk Island has the biggest Margaritaville in the Caribbean. It's located adjacent to the grant cruise port. Their menu includes high-end American and Mexican food with burgers, nachos, and seafood platters.
Margaritaville also offers themed cocktails and lots of desserts. There is also a huge pool and souvenir shops.
Both Jack's Shack and Margaretville open only when a ship is docking on the port.
3. Arches on the Ridge:
This outdoor cafe is located on the lighthouse road. Their menu has impressive seafood-the lobster is especially a favorite among visitors. They also offer vegan and gluten-free food.
With beautiful outdoor dining, it's a perfect place for a quick lunch or brunch on your way to exploring grand Turk Island.
Where to Stay in Grand Turk Island?
Grand Turk has both amazing beach resorts and budget hotels. Most of the hotels are located within walking distance of the beaches so you don't have to worry about getting a cab or paying for a taxi.
You can also find rental apartments for long-term stays.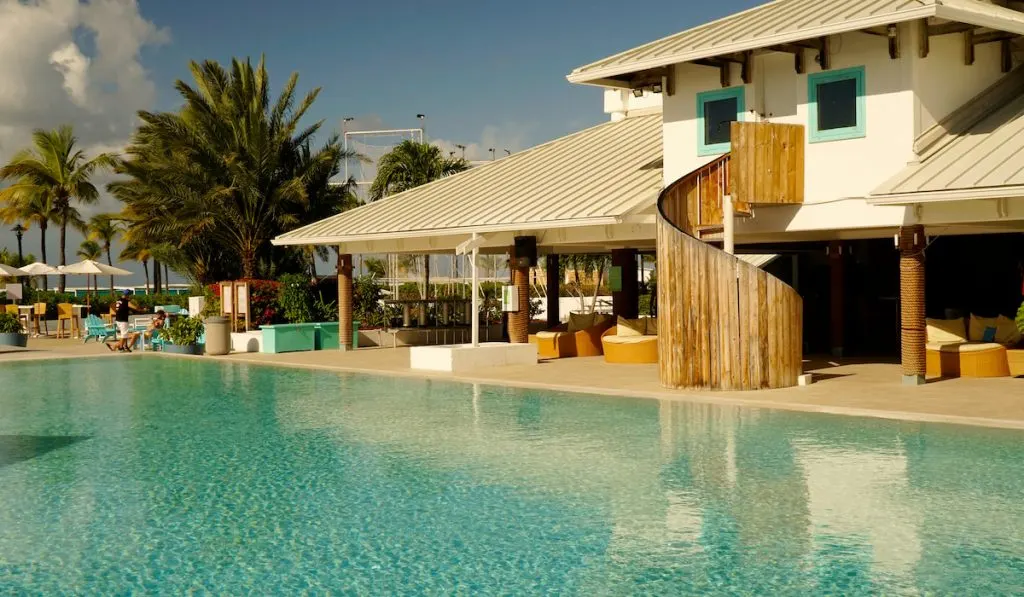 Best Hotels
Turks Head Inn:
It is located in one of the oldest buildings on grand Turk Island, recently refurbished and turned into a modern hotel. The Turks Head Inn is located a short distance away from the beach in Cockburn Town.
It has both budget friendly options and luxury accommodations. Along with all modern amenities, a bar, and a pizza garden.
Sunflower Oasis Hotel:
This hotel features pool-front suites with a kitchen and living area. It's located right in front of the beach in a bustling area. The market is also just minutes away.
The Sands Hotel:
Another beachfront hotel in Cockburn Town. The Sands offers bridal suites and family rooms, with all modern amenities. They also provide bicycles for rentals.
Manta House:
It consists of three separate houses equipped with mini kitchens. It also provides a private beach and privacy for the people who want to enjoy some me time.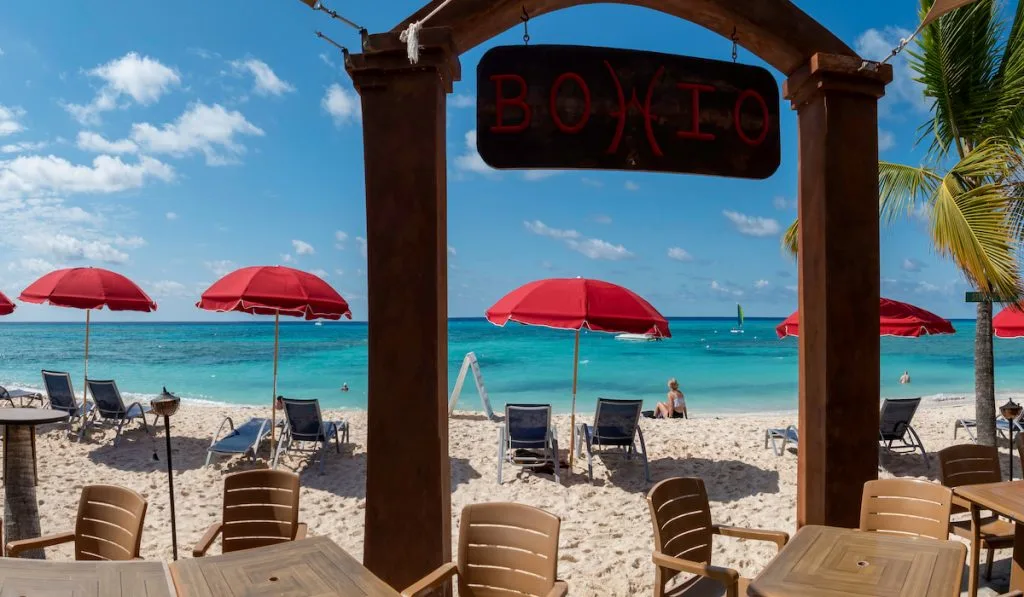 Best Resorts
Bohio Dive Resort:
It's a family-friendly beachfront resort located on the beautiful Pillory beach. You can enjoy the Caribbean Sea and white sand beaches right from your room.
This resort features great swimming pools and an on-site restaurant that serves delicious local food. The best part is they also offer diving trips for adventurers.
Osprey Beach Hotel:
Located just a few steps away from the beach on Duke Street, Osprey Beach Hotel offers guests various activities.
They host BBQ Nights twice per week with live music for listening and dancing. They also offer diving booking with all diving companies on the Island.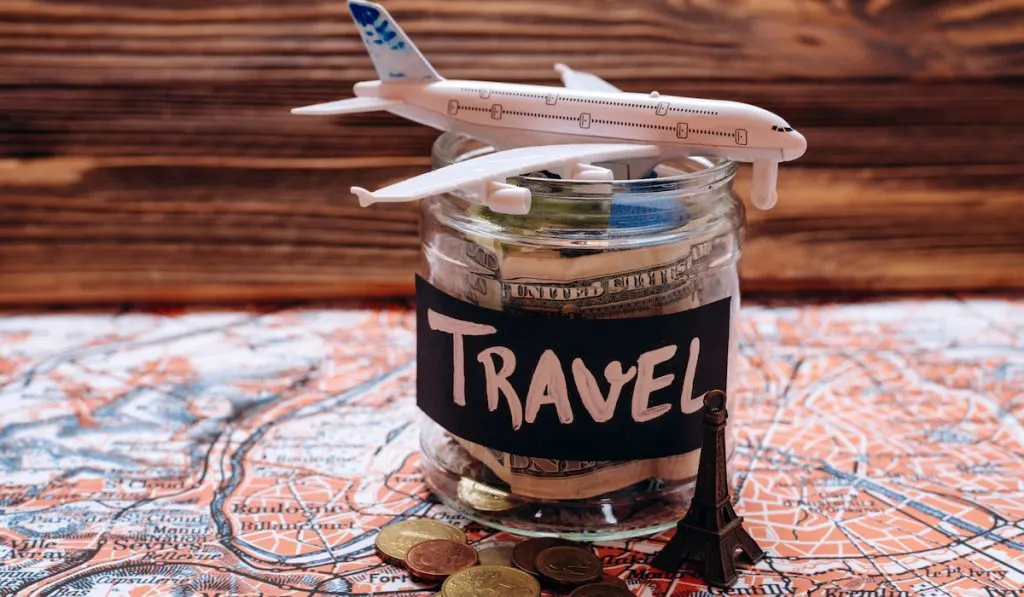 Money-Saving Tips:
Visit Off-Season-Like all popular destinations, Grand Turk Island also sees a high and low season of tourists. Rates of hotels and resorts thus vary throughout the year. The best way to save money is to travel off-season, which is in the peak summers and monsoon months. Accommodation and entertainment will be less expensive, and you will have a greater chance of finding secluded beaches all to yourself.

Buy an Airline package-Keep looking for offers from airlines. Many airlines offer discounts on two-way air tickets and sponsor services on the Island.

Directly book with the hotels-Contact your hotels directly rather than from booking sites. There is a good chance that hotels will give you a discount.

Compromise on beachfront-Hotels charge more for beachfront rooms. You can choose a regular room; the beach will still be just a few steps away.

Get a rental Cab-Renting a vehicle is the most affordable way of traveling. Rent a cab right from the airport or cruise center & you can travel to the beaches, town and historical sites with more freedom and less money.
Resources