Although February is the middle of winter in the southern hemisphere, in some parts of the world it is peak tourist season: a great time to plan a romantic holiday to cherish your love or just pamper yourself with expensive gifts.
February is the best time to visit the tropical Islands and experience all that they have to offer. From diving beneath crystal-clear water, soaking up panoramic views at stunning resorts, experiencing ancient cultures or local folklore, to simply enjoying romantic walks in beachy resorts.
Here are the 11 best Island destinations for people looking for exciting vacations during February.
1. Anguilla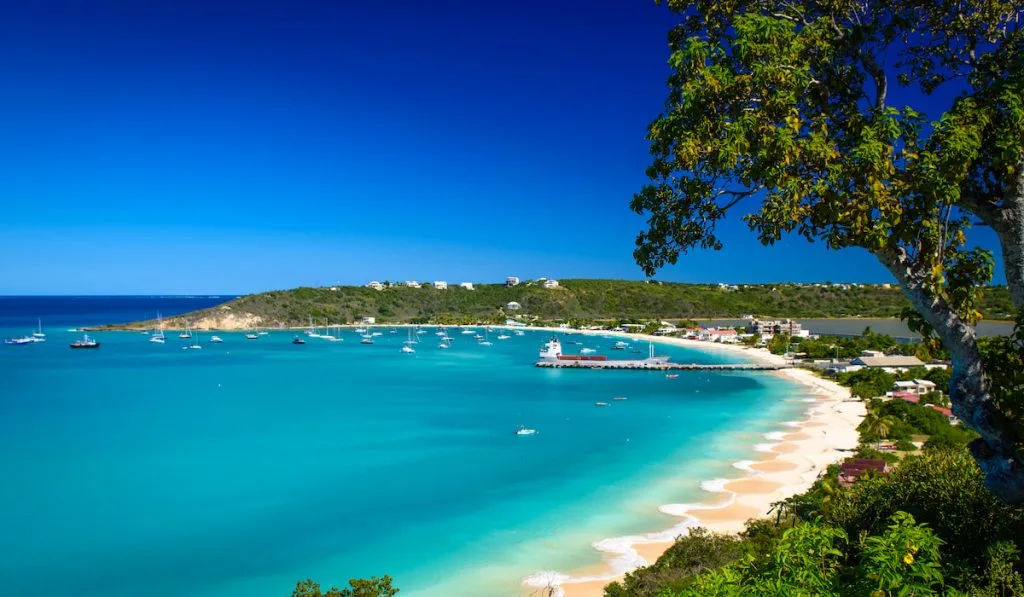 This romantic destination gets lots of visitors during Valentine's Day. It is famous for sandy beaches, waterfalls, lagoons, and coral reefs surrounded by turquoise waters. This place has become one of the most desired wedding and honeymoon destinations.
Boat races and scuba diving are among the top choices of activities in Anguilla. A flower show festival also happens at the end of February.
Overall, the place is less crowded in February and you won't need month-long reservations for hotels and top restaurants.
2. Dominica
Tourist season starts in February in Dominica. It's a beautiful island that can be cherished on a budget. The natural landscape and seascape are untouched by mass tourism.
The land has one of the lushest and diverse rainforests. It also has an abundance of wildlife and hundreds of rivers flowing. You'll see waterfalls everywhere. Its emerald lakes invite you for a dip on a hot day. Although it's part of the Caribbean, the closeness to nature and overall experience are way different.
It doesn't have white sandy beaches. Instead, volcanic activity produced rugged bays, exotic seascapes, and dark sand shores.
Dominica has a population of Traditional Kalinga people who live in harmony with nature in a designated protected territory. They still practice their ancient culture and you may be tempted to buy their handcrafted baskets.
It is a perfect destination for those who want to explore nature in its rugged form, no luxury resort is needed. The unspoiled and unexplored land of Dominica is waiting for a traveler.
3. Barbados
Barbados is a place where you can find something for everyone. It has luxury resorts, high-end restaurants, affordable lodging, and lots of street food.
Sun shines for more than 9 hours on the beaches of Barbados in February. This one-of-a-kind island nation has many beautiful beaches and gorgeous scenery.
The country is also rich in history, culture, nature, and food. There are many activities for visitors including water sports, bars, submarine tours, or trips to Harrison's Cave and botanical Gardens.
Crane Beach and Bathsheba Beach in the evenings are some of the best places to enjoy a romantic Valentine's Day with your partner.
4. Aruba
Aruba is a well-known holiday destination in the Caribbean and is considered one of the world's best islands for visiting in the winter months.
January and February are also months of the annual carnival when Aruba turns into one big street party. The locals dress in crazy costumes, and the streets are packed with food stands and grand parades. Tumba music fills every corner of the small Island.
Aruba boasts 350+ days of sunny, blue skies and a year-round tropical climate. The landscape varies with smooth white beaches, rugged desert lands, rock formations, and natural rock bridges. The beaches are well maintained with transparent waters for those who like swimming, snorkeling, or diving.
Aruba is paradise on earth and it is no wonder many travelers find it hard to leave when their vacation ends.
5. St. Kitts Island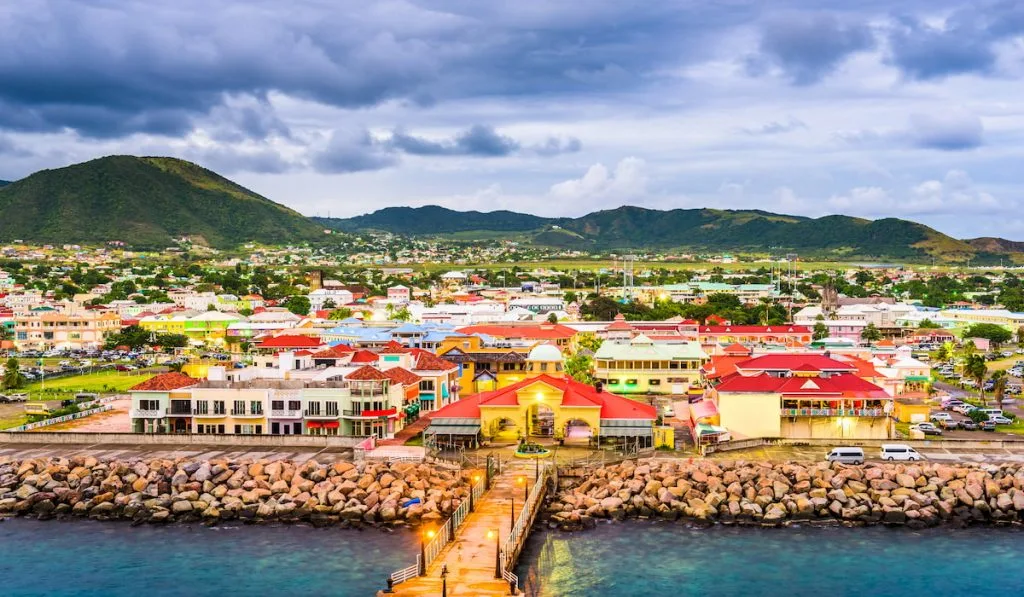 One of the most luxurious places in the Caribbean, St. Kitts offers a total escape from reality. This beautiful place has mesmerizing views and friendly locals that make it a wonderful getaway during February.
The island is famous for its dormant volcanos, forest-clad mountains, and beaches, but it doesn't end here. The capital of Basseterre is home to many high-end boutiques and luxurious spas. It also has plenty of casinos, which are especially fun for leisurely activities.
Furthermore, yacht enthusiasts find this island especially wonderful as it is home to several prestigious yacht companies.
6. Key West, Florida
Key West is known for its laid-back environment where you can go fishing, swimming, or simply walk along the beach with white sand under your feet.
Street performers, buskers, and vendors gather every day in a square to perform for hundreds of people before sunset. Island has an energetic nightlife with lots of bars that make you party all night long.
The temperature in February remains pleasant between 66 F to 78 F. Sailors, snorkelers, and divers flock to Key West this month to enjoy world-class activities.
The most interesting attraction on this island is a glass-bottom boat tour which lets you see marine life in its natural environment with an unobstructed view of coral reefs, fish, and other water creatures. There are also boat tours, sunset sailboat trips, and kayaking to explore more of the beautiful islands.
7. Providenciales, Turks and Caicos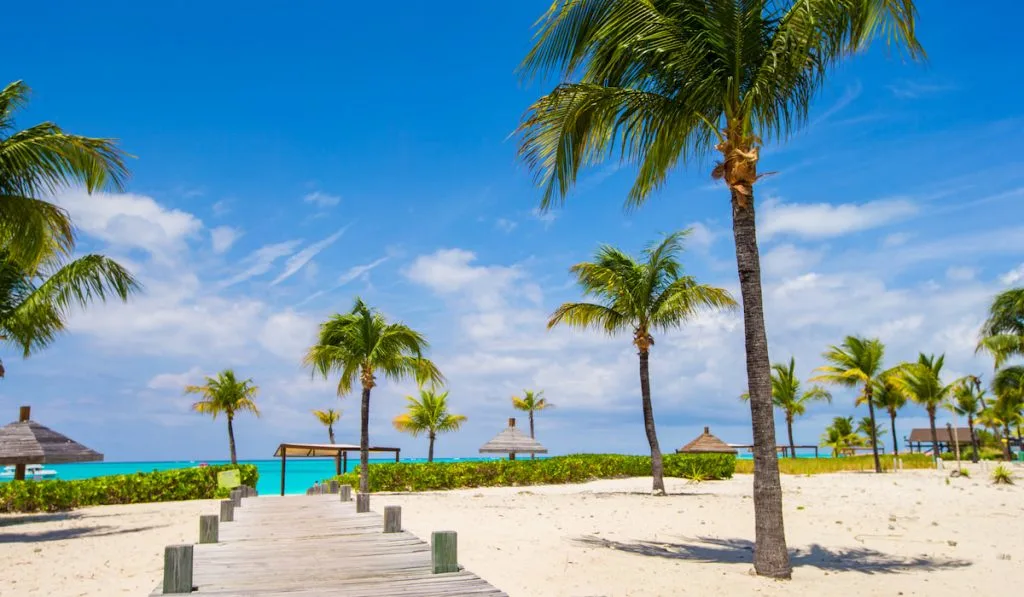 February is a great time for you to cruise with your loved one on the Caribbean Island of Providenciales.
The Island is surrounded by beautiful coral reefs and breathtaking diving spots. You can go and explore different excursions, or simply enjoy some leisure activities like sunbathing around exotic beaches.
There are many romantic places on the islands, you will have a great chance to make some unforgettable honeymoon memories.
The weather is usually warm and dry in February, with little precipitation to impede outdoor activities like snorkeling or scuba diving in the blue waters of the Caribbean Sea all day long. The half moon bay and chalk sound national park are two top attractions on this island.
8. Maui, Hawaii
Hawaii is a known paradise on earth, where visitors are guaranteed to experience, nature, beaches, world-class resorts, fine dining, and entertainment. But it's also an expensive destination. February is a time when you can enjoy both the tropical weather and affordable deals on the Island of Maui.
Despite a few rainy days, the island gets plenty of sunshine. You can soak up the scenery from Iao Valley, black sand beaches, and Haleakala National Park.
February also gets the largest whale sightings in Maui which calls for 'February whale festival', with live music concerts, party cruises and lots of local food. Hawaiians also celebrate a whale day in February.
9. Jamaica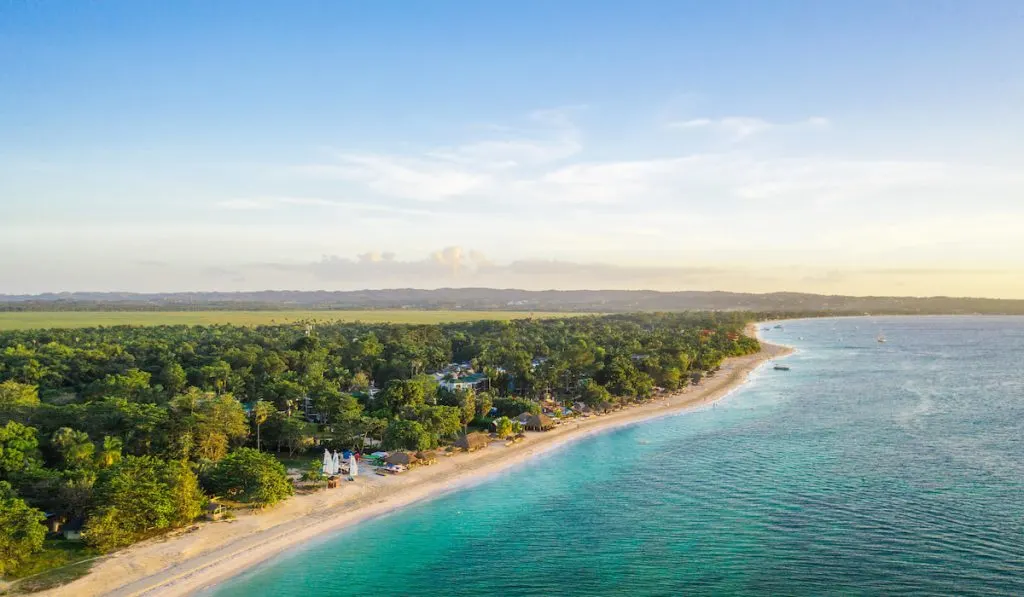 This Caribbean country remains warm and sunny in the month of February. The temperature rarely falls below 72 F. Beyond sandy beaches and inviting sea, Jamaica has lush green rain forests, towering waterfalls, thundering rivers, and blue lagoons.
It offers an ultimate holiday package with music, food, adventure, shopping, and history. Visitors can find all possible activities on land and water.
There are hiking trails through mountains & forests, Ziplining across valleys, rafting in the Marta Brae River, surfing at Boston Bay, and exploring the vast Blue and John Crow Mountains National Park.
Make sure to fulfill your trip by tasting the native delicacies like jerk meat, fish filet, and world-famous Jamaican Ice-cream.
10. Easter Island, Chile
Tourists flock to Easter Island in February to enjoy the joyful carnival atmosphere, family fun, and grand 'Tapati Rapa Nui,' a week-long cultural festival.
Being one of the most remote Islands on the planet, Easter Island has an exotic lifestyle. Owing to its isolation from the mainland, The Polynesian culture is still alive there.
The mysterious history behind moai statues attracts visitors from all over the world. You can pay homage to these enigmatic Moai statues at Ahu Akivi and Ahu Tonga Riki, which are the biggest group of Moai statues. Over 40% of the island is a National Park, with many statues scattered throughout.
There are also volcanic craters and beautiful beaches to visit.
11. St. Lucia Island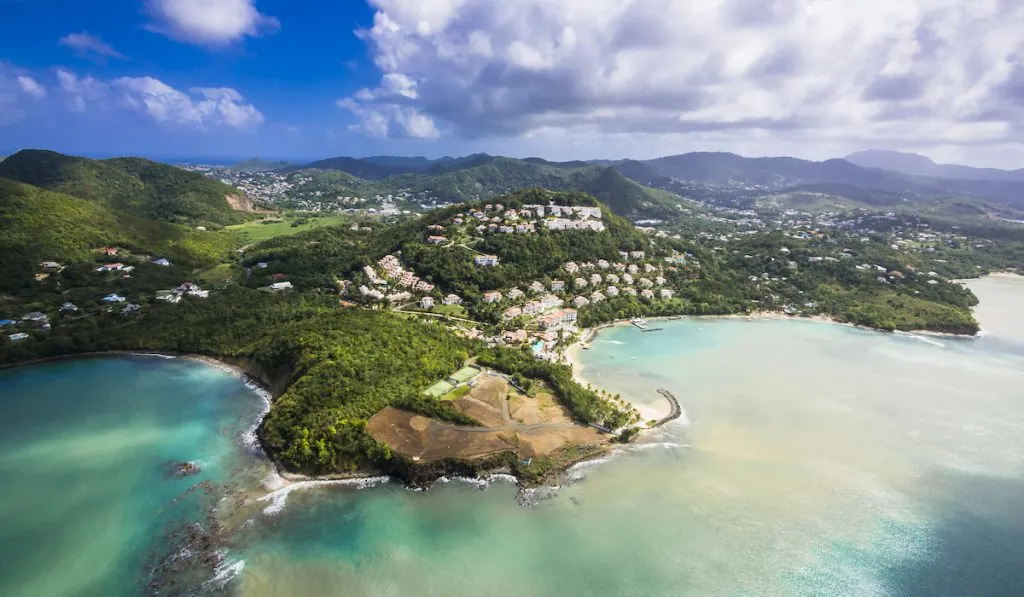 With the icon twin Pitons, St. Lucis has a lot to offer in the natural landscape. This Caribbean Island nation has been popular for its picturesque beaches and untampered forest.
It is one of the finest yet undiscovered places which combine luxury with adventure. The island's capital, Castries, has a lot to offer in terms of accommodations and restaurants offering Caribbean delicacies.
Honeymooners love it for the beaches like La Toc Beach and Anse Chastanet Beach. Besides this, there are a bunch of water sports that you can indulge in while here.
Don't forget to visit sulfur spring park at mount Soufriere. Local markets sell lots of ethnic spices and handmade souvenirs, some things you will love to carry home.
Conclusion
We hope this list of 11 islands to visit in February has been useful.
Wherever you go, you will be able to enjoy your trip to the fullest with these travel destinations at your disposal.
Resources