September can be a great time to plan your vacation and hit some of the world's most beautiful destinations at lower prices.
Also, most people travel during the peak summer season, which means there will be fewer crowds and more chances for you to spend a relaxing, peaceful vacay enjoying nature and some new fun activities.
Today we bring a list of 17 picturesque islands best to visit in September!
Europe
If you've always wanted to go to Europe, September is definitely one of the best periods of time when you should do it. The popular destinations are less crowded, prices are lower, and the temperatures are perfect.
That means they're mild and moderate, which allows you to comfortably explore your preferred destinations.
Crete, Greece
Crete is the biggest Greek island and one of the most popular holiday destinations in Europe. The weather in September is just perfect; temperatures are still high enough for you to swim and enjoy the summerish activities, but they rarely go above 86°F.
Greece has rich mythology full of interesting stories, gods, and according to one of the legends, Zeus, the most important Greek gods, was born in one of the Cretan caves.
Aside from mythology, this incredible island is also the birthplace of modern European civilization. You can trace its history as far back as the 7th millennium BC, which is why visitors can enjoy plenty of museums, historical monuments, daily excursions, and extremely rich cultural heritage in general.
The nature is incredible so you can enjoy swimming at some of the stunning Mediterranean beaches or hike through spots like Samaria Gorge and Agiofarago Canyon.
Santorini, Greece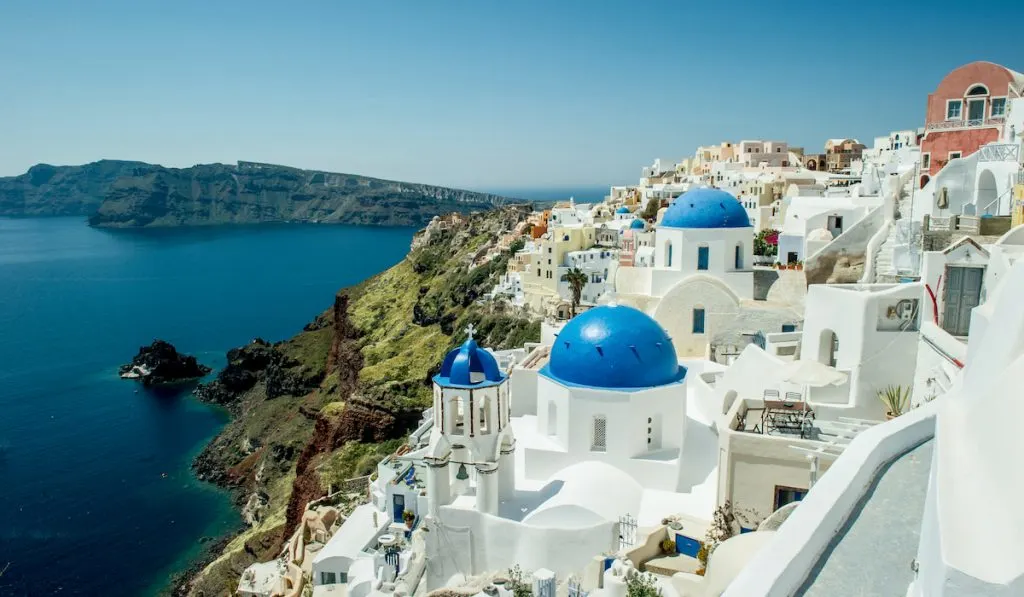 Santorini is one of those beautiful, Instagram-friendly destinations you'll want to visit as soon as you see the pictures. In other words – if you're looking for a lovely, peaceful, romantic island holiday, this is definitely a place to be.
Santorini is a perfect combination of peaceful beaches and warm weather, together with charming island culture and iconic postcard sceneries.
The great thing is there are multiple Greek islands relatively close to each other, so you can enjoy visiting and exploring more of them during your vacation.
Malta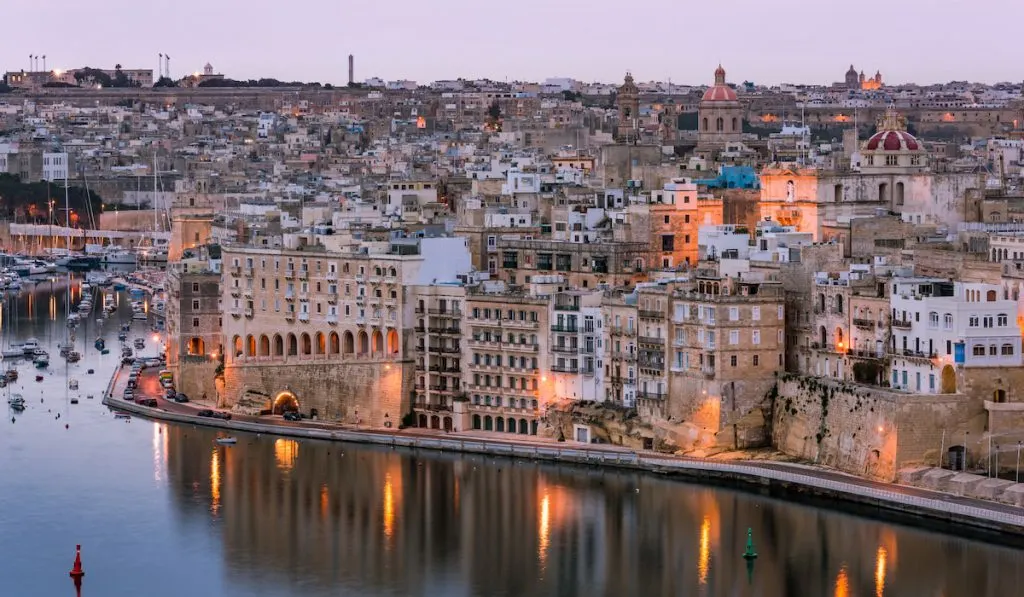 September in Malta is warm, sunny, and dry. This incredible island, located in the southern Mediterranean Sea, has tourists during the entire year because of an average of 300 sunny days in a year and its pleasant climate in general.
If you go there during the peak summer season, you'll find rather crowded resorts, beaches, and streets so September is definitely a better choice.
This beautiful country is a pretty affordable destination and prices are lower in September.
Malta is famous for its astonishing coastline, crystal clear waters, and numerous ancient wrecks, caves, and reefs – which make it the perfect spot for diving lovers.
Gran Canaria, Spain
The Canary Islands is a Spanish archipelago, with Gran Canaria as the biggest island there. It's extremely popular amongst European tourists who want to enjoy the summer even after it's finished, but still prefer to avoid crowds.
Gran Canaria is a quite affordable, yet very beautiful spot known for its impressive nature, including sandy, and black lava beaches.
One of the most popular landmarks on the island is Roque Nublo. It's a volcanic rock 262 ft (80m) tall and protected by Unesco. It's also great for hiking lovers, thanks to the magnificent views it gives of Tajeda mountain.
Tenerife, Canary Islands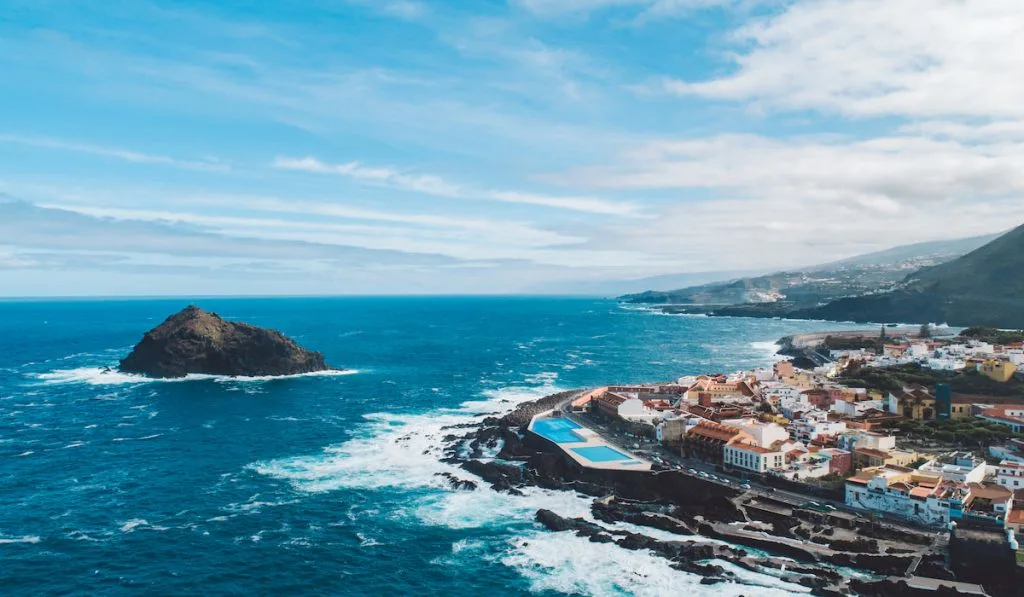 The peak season here finishes off in August, so you can find your peace and enjoy the countless beauties on this island with fewer crowds. Also, in September, prices are way lower which makes Tenerife a budget-friendly summerish location.
Tenerife offers many fun things to do. If you're a fan of hiking, you can climb on top of Mount Teide and enjoy astonishing views.
You can visit cliffs in Los Gigantes as well as take one of the boat trips around the island.
There's also one of the best water parks in the world called Siam Park.
Hvar, Croatia
Croatia is one of the most popular summer spots amongst plenty of world travelers. It's a small country with an incredibly rich coastline and numerous islands where everyone can find something for themselves.
Also, the temperatures in September are moderate so you can enjoy swimming in the crystal clear Adriatic sea as well as participating in countless other relaxing activities.
Hvar is one of the most popular islands many celebrities have already visited. It offers astonishing views, crystal clear sea, wild beaches you can reach only by the boat as well as specific local culture and fascinating Mediterranean architecture.
Brač, Croatia
Brač is another of the multiple islands you can visit while there. It's an hour away from Split, a beautiful historical city with a ferry port where you can hit most of the mid-coast islands.
Brač offers small charming towns, tasty food, incredible homemade products (honey, wine, olive oil and more) sold by the local people.
One of the most iconic beaches on Brač is called Zlatni Rat. This beach is specific because it moves and changes shape according to tides and winds.
Sardinia, Italy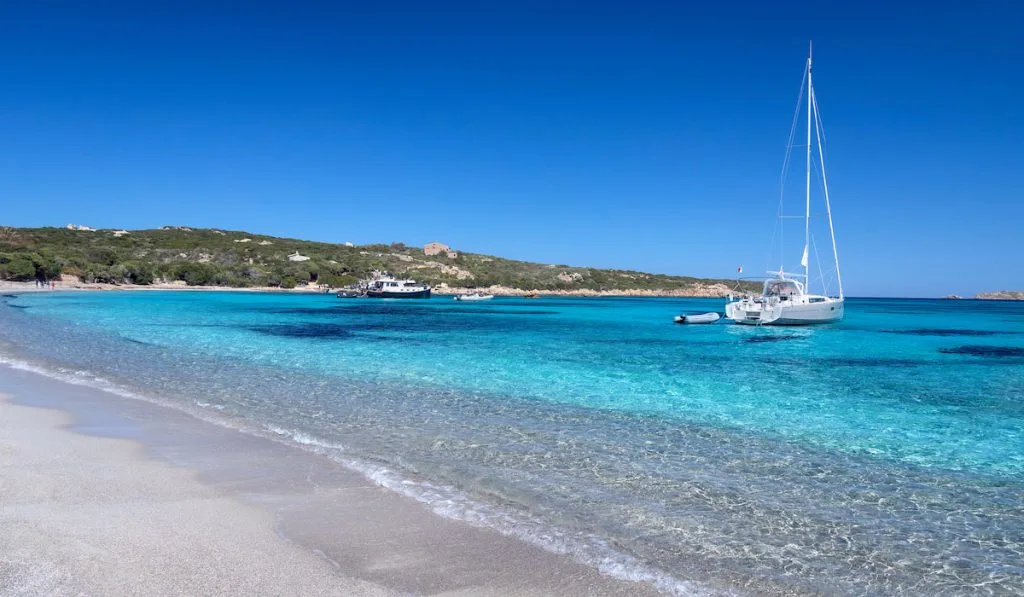 Italy is a beautiful Mediterranean country with many romantic destinations to visit. Moderate and mild temperatures will allow you to explore the country and its islands.
Sardinia is the second-largest island in the Mediterranean sea, right after Sicily. It has amazing coast with sandy beaches and turquoise waters. If you're going inwards, you'll also get a chance to hike breathtaking mountainous landscapes.
Don't forget to try out pasta, seafood, and some other tasty local dishes!
Sardinia is one of those places where you can strongly feel the culture, energy, and aesthetics of Italy.
North & South America
North and South America also offer multiple striking islands to visit in September.
Aruba
Aruba is a stunning island in the southern Caribbean sea. It's part of the ABC Islands – Aruba, Bonaire, and Curaçao – which used to be called Dutch Antilles.
This is an excellent destination for archeology enthusiasts, snorkelers, and people who love endless white-sand beaches and crystal clear sea. One of the most popular spots is Flamingo Beach, where you get a unique opportunity to come closer to the phenomenal pink birds freely roaming around.
Other than that, there are also Palm Beach, Eagle Beach, and countless other locations where you can enjoy swimming in a surreal turquoise sea.
Aruba is home to numerous natural wonders such as deserts, caves, and reefs. Its capital brings a wide variety of activities you can enjoy – starting with shopping spots, nightclubs, bars, restaurants to amazing historical sites.
Barbados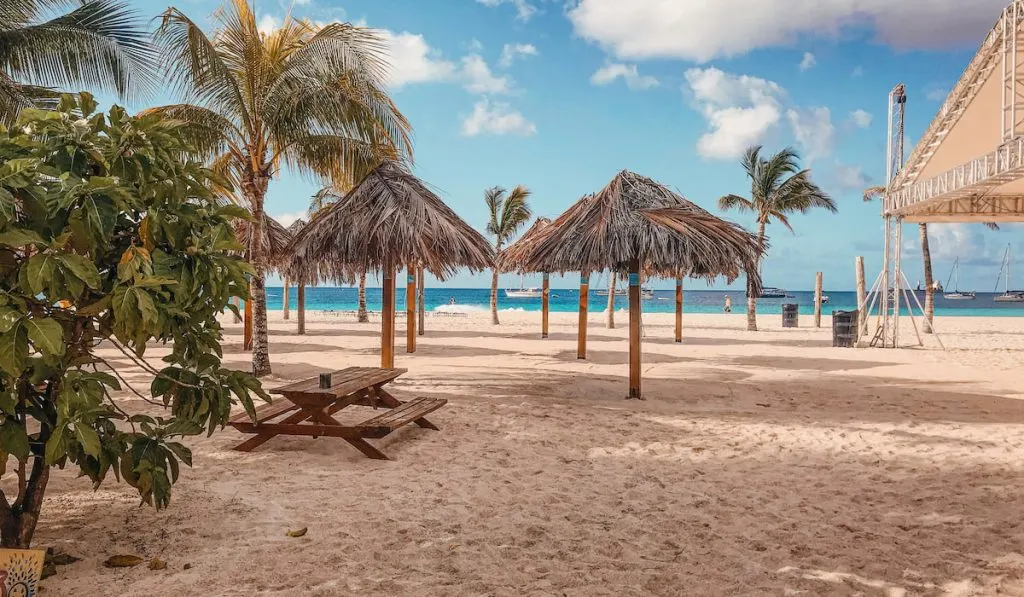 Here's another precious jewel in the Caribbean sea that offers a peaceful atmosphere and magnificent nature. Turquoise water looks like photoshopped postcard scenes, and beaches are long, soft-sanded, and calming.
Generally speaking, Barbados is minimally affected by hurricanes because they mostly hit further North of the island. It often rains there, but showers don't last that long so you'll still enjoy the nice, sunny weather most of the time.
Barbados is a bit pricey, but it offers numerous things such as mysterious caves, historic sites, a wildlife preserve, plantations, etc. It was colonized by the British, which is why it brings such vibe.
Antigua
Barbados and Antigua are amongst the more expensive Caribbean destinations. Antigua is the driest of the islands in that area. That means, even though September might bring some rain, you will still be able to enjoy some great quality sunny days.
In the past 50 years, only six hurricanes have directly hit the island, which makes it rather safe to visit.
Antigua brings amazingly beautiful nature as well as a vibrant atmosphere through live music, local bars, excellent restaurants, and plenty of other fun things.
Hawaii
Here's another popular spot with astonishing nature and amazing beaches. The weather in September is still quite dry and summerlike, so you'll be able to enjoy a wide range of activities.
It's also cheaper and less crowded then, which leaves you more space to explore the island and enjoy a wide range of activities there.
The National Park in Hawaii is home to one of the most active volcanoes in the world. Kīlauea. You can go there and either hike or do a zip-line through incredibly beautiful forests, mountains, and waterfalls.
Hawaii is an island full of amazing wildlife, so you can enjoy activities such as whale watching.
Angel Island, California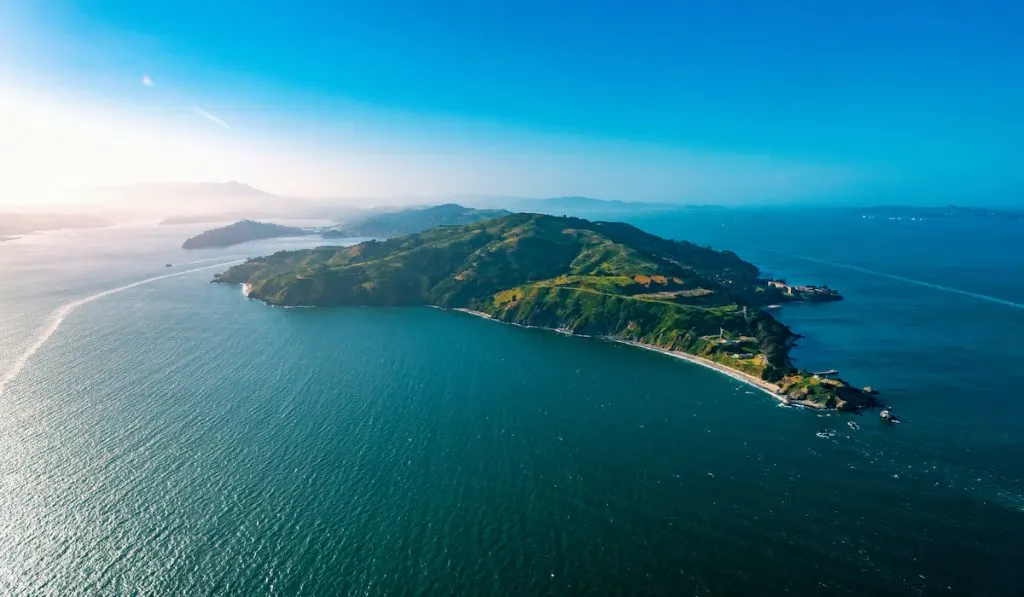 This is one of the biggest natural islands in the San Francisco Bay as well as a favorite spot for locals that want to take a relaxing, daily trip.
For around $30 a night, you can make a reservation in advance and camp here.
Angel Island offers outdoor activities like biking, kayaking, and hiking. One of the things you can do is hiking to the top of Mount Livermore. It offers marvelous views of the entire Bay.
This is also a great spot if you simply want to enjoy some family time with no extra sports activities.
Channel Islands, California
It contains five islands that ad up to about 250,000 acres of land:
Anacapa Island
Santa Rosa Island
Santa Cruz Island
Santa Barbara Island
San Miguel Island
The Channel Islands is a popular destination also known as the Galapagos of California. It offers beautiful landscapes and biodiversity, with more than 2,000 types of animals and plants together with coastlines, wetlands, forests, and a wide range of ecosystems.
The area is uninhabited so if you want to camp there, you'll need to bring all your own gear as well as supplies of water, food, and other things you need.
Catalina Island, California
Catalina Island is only an hour ferry ride away from Los Angeles. When there, you can taste local island cuisine, explore the oceanfront shops, tour the island to see wild buffalo and enjoy many other fun activities.
The harbor is dotted with clear water, European-style homes, and numerous fishing boats.
Hiking lovers will be excited to find trails to hidden harbors and inlets or take kayaking, sailboat, and snorkeling tours to explore crystal clear waters.
Catalina Island is known for its animal diversity which means while there, you'll have a chance to see foxes, deer, bison, bald eagles, dolphins, whales, sea lions, and many other interesting animals.
Asia
Tourists prefer to visit tropical Asian countries during the wintertime. The climate then is mostly drier and the temperatures are more pleasant and not so high.
Bali
Bali is a rather popular destination and one of Indonesia's most visited islands, year-round. It's an island that has it all – amazing towns and villages where you can experience Balinese culture, beaches, specific forested volcanic mountains, coral reefs, and so much more.
What visitors really enjoy are the marvelous rice paddies you get to see while traveling the island. Bali is also one of the hotspots for digital nomads, which is why there you get a chance to meet people from all over the world.
Africa
Even though Africa offers countless amazingly beautiful destinations, it's often a spot people prefer to visit during the wintertime.
Zanzibar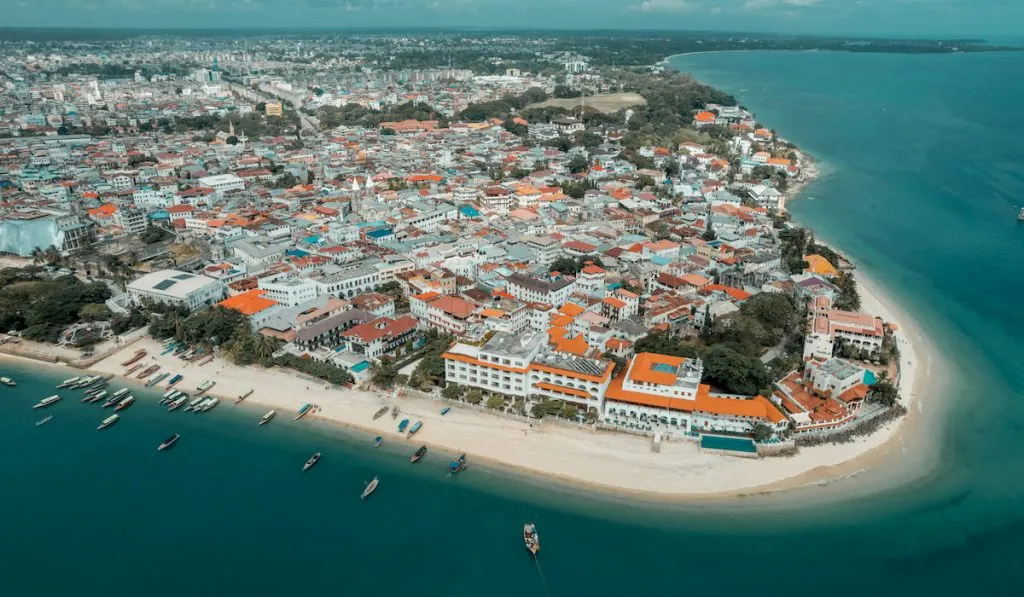 Zanzibar is an archipelago located just off the coast of Tanzania, which makes it a great year-round tropical location.
On average, September temperatures are between 70 and 85 F, which means so you can both enjoy your time on the beach and explore the island comfortably.
Zanzibar offers calm, exotic, and beautiful beaches in combination with a vibrant nightlife. There are also plenty of old towns where you can learn more about the history of this incredible area as well as enjoy the interesting architecture.
Some Final Words
September is a great time to put your thoughts together, relax a little bit, and explore some new areas. Islands are a perfect chance to do that because they bring peace, nature, and many fun activities where you can really loosen things up.
The world is truly a beautiful place. However, Europe and the Americas offer more islands to visit in September because of the moderate temperatures and nice climate conditions.
Which destinations do you prefer? If you'd like to add some of your own favorite islands to visit in September, feel free to share them with us, we can't wait to hear them!
Resources