Beach trips are some of the most cherished memories of my childhood! We'd go for Spring Break or even Thanksgiving for summer campouts or day trips. Living in a beach home Airbnb or camping in the forest near the beach was always such an adventure, and soaking up lazy, small-town beach life with the unique restaurants and shops, naps on the beach, building sandcastles, and playing in the ocean can be called the best parts of life.
That's the perspective of a child, who has no obligation other than to show up and play! However, as an adult, the responsibilities grow.
Along with planning the trip: the drive out; where to stop and get lunch; bathroom breaks; meeting up with carpools; when you will arrive; reserving the house; checking out the stores and restaurants in the area; activities you can do there; what beaches are the best and least busy; you also have to pack.
Snacks and entertainment for the car, living supplies the Airbnb doesn't provide, clothing, food, and beach toys for your kids' enjoyment– it all becomes so overwhelming!
What started as an exciting trip, or a spontaneous need for the sea, has become a stressful ordeal filling your imagination with the necessary mountains of bags and equipment you'll need to stuff in the trunk and around the backseats. You have to go, you want to go, you just wish packing didn't have to be so stressful.
What if I told you it didn't need to be? This beach trip should not only be a fond memory for your children for years to come, it should be a great time for you. As much as your kids may want to come back, if you find it too stressful, you may not want to. There must be a way to make beach days just as fun and carefree for grownups as it is for their kids.
The answer lies in minimalism.
Read on to learn how to cut down on your packing and make your beach vacation fun for everyone!
Airbnb Minimalism
The best part about beach homes, what makes them such an attractive feature that people decide to design their real homes in the same fashion, is the minimalistic, peaceful quality of them. Their rooms are filled with natural sunlight rather than furniture and clutter.
Any furniture and decor that makes the cut is sparse, but aesthetically pleasing and comfortable, adding to the light airy, carefree feel of the home. Furniture and appliances are functional and add to the beach vibes of the home.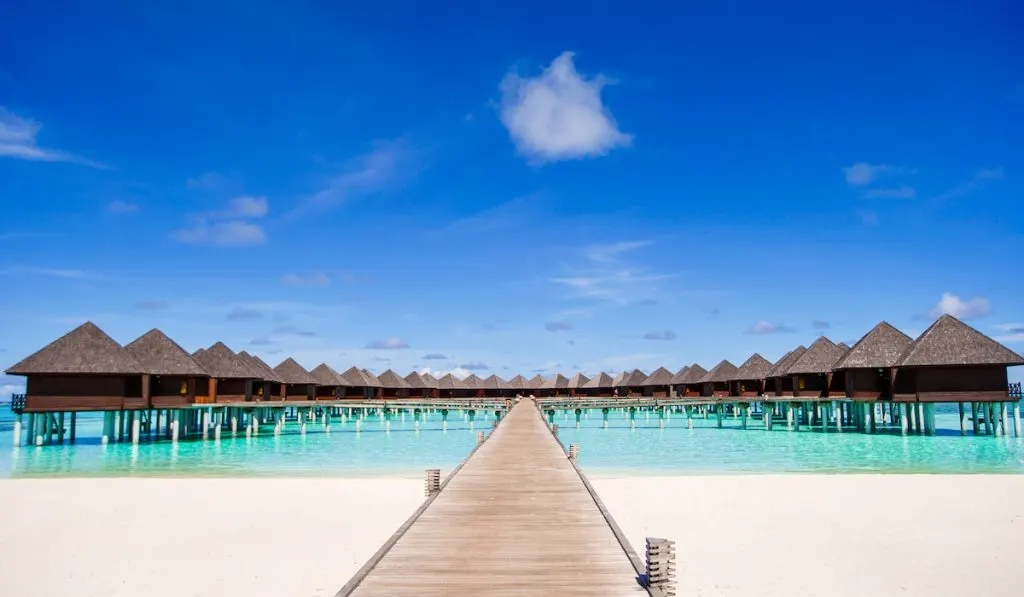 Taking this idea into consideration, we should model our packing in the same way! The few items of each necessary category we choose to bring along should be functional, comfortable, and add to the aesthetic of the vacation you are creating. With this in mind, when choosing what to bring and what to leave behind, aim to only bring one of each necessity.
Don't provide yourself with options, as you most likely will just be lugging them around rather than using them. And make sure the one you choose to bring is one you like, is fully functional, and even complements the function of another item (multi-functional and mixing and matching items, from clothes to tools, is your best friend!).
Necessities for an Amazing Airbnb Stay
So, that all sounds great. Bringing items that will only add to the functionality and peaceful, laid-back aesthetic of beach life your beach house emulates. I get the vision, but I still need details. What specifically do I need to bring, and what can I stand to leave behind?
Most of the time they also provide you with soap, toilet paper, clean towels, and dishware, but you will want to double-check before you come. If they do, cross the first thing off your list! If not, we can proceed minimalistically.
For each person in your party, bring a shower towel and a beach towel. Shower towels will stay in the bathrooms, while beach towels will hang outside to dry. Bring a hand towel for the bathroom and the kitchen. That's it! Anything more is unneeded luxury and space in your car. You can survive without a hair towel or washcloth for a week!
For dishware, bring plastic SOLO cups with your names on them so you only need to use one the whole week, plastic utensils, and paper plates. This will make cleanup much easier, and will also result in a lighter car on the way back when all of them have been used!
If you'd rather use reusable items (save the turtles!), we understand. If that's the case, bring one water bottle for each member of your party. They can use it for drinking water at home and out and about! The top can be removed and the base used as a regular cup during meals if you'd like to have other drinks such as juice or milk, and washed before being used as a water bottle again!
Bring one set of utensils (fork, spoon, knife), a plate, and a bowl for each person. You don't need one for each meal, you can hand wash and reuse the same one– it'll dry between meals while you're out and about! It's a great way to motivate you to do quick and easy cleanup after each meal too, rather than having a large pile of dishes at the end of the day that no one wants to deal with, especially not on vacation.
What About Clothes and Other Personal Necessities?
Let's think. You're going to be out adventuring every day, so you'll want to make sure you bring enough clothes so that you'll have a change if anything gets really soiled. However, a whole new, fresh outfit every day is not necessary, as you're just going to be getting dirty again! Here's what we've decided, and you can adjust according to your needs.
Bring one swimsuit. Yes, just one, one for each of you. Swimsuits are where it starts; if you bring two or three, you'll end up bringing two or three of everything! Because of this, you'll want to make sure the suit you do bring is one you love because you're going to be spending a lot of time in it.
It should be one you love to put on, feel cute in, and makes you feel confident. It should also be functional, meaning it's one you can wear in all circumstances, whether lounging on the sand or playing volleyball, or jumping around in the water.
For a week-long trip, bring four shirts and three pairs of pants/shorts/skirts (meaning three total, not three of each! You can also make one of the four "shirts" a dress). Make sure these are clothing items that you love to wear, and that can successfully mix and match with each other.
Bring one pair of beach shoes, such as sandals or flip flops, and one pair of sneakers for walking around. Bring a sunhat and one pair of sunglasses if you wish. If it's a little breezy, bring one light sweater or jacket that you think you just look amazing in, or, if it's also threatening rainfall, bring a cute raincoat instead that can fulfill both needs.
No more clothes! Bringing more is unnecessary. You don't need any more, you just like having options. In the end, however, you're not going to wear those options and they're just going to be taking up room in your duffel bag and the back of your mind, stressing about making sure everything ends up back home in the end.
For personal necessities, bring the bare minimum. A toothbrush for each person, a tube of toothpaste for each bathroom. Bring shampoo, conditioner and body wash for each shower. Glasses and/or contact solution if it applies.
For skincare, ladies and gentlemen, try to be as strict as possible. Do you really need all those creams and serums? Or even makeup? Why would you want to wear makeup to the beach? Resolve to make this week your makeup break, giving your skin time to heal and breathe freely. I know there are some times when in order to be confident you need your whole kit, but in the spirit of minimalism, if you must bring skincare the most you should is face wash and moisturizer.
With it being a beach trip, you should of course have sunscreen! Bring one kind for your face, and one kind for your body to share with everyone in your group. As you'll be in the sun most of the day, there's no need to bring varying levels of SPF– bring only the highest level and you'll thank me later!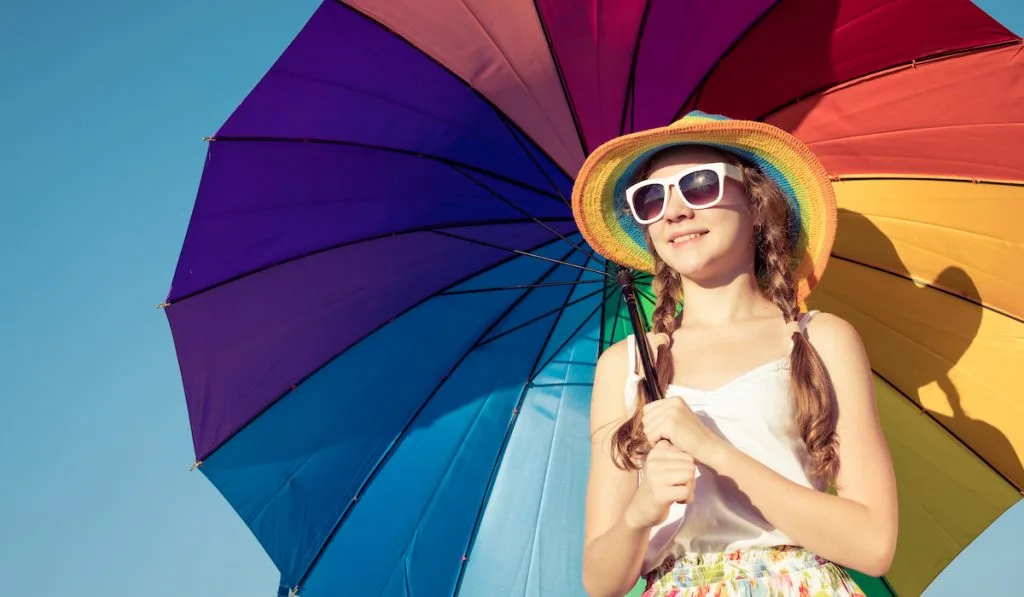 Okay, We've Got All of That Out of the Way– Now What?
The beach stuff! For your days lounging around the beach, those materials will most likely be the biggest, so you'll want to be the most stingy with which ones you bring along.
Bring one beach umbrella and one blanket for your group. Make sure they're both big enough to cover the desired amount of space, and even though they may be bigger they'll take up less space than two of each! Bring one cooler for meals and snacks (and water, so important!), size dependent on the number of people sharing it.
Everything else would be whatever you want to bring for entertainment purposes, such as sand shovels and pails, a volleyball and net, surfboards, frisbee, etc. These vary based on what you and your family want to do on the beach but be very strict about it. Don't bring a frisbee because you may want to play with it– a good rule of thumb is if you have to buy the toy, then it's not worth bringing! If you enjoyed it enough to use it, you'd already have it.
If you have little kids you may choose to bring just the pails and shovels. If your kids are older, you may want to bring the volleyball, net, and surfboards. If it's just adults, you may just want to bring a good book and pack your cooler full of cold drinks! A lot of your activities will be ones you may rent or go to a place to do, so you don't need to bring much of your own.
What About for the Car Ride There?
Here's the great news, folks: now that we've reached this point, we're done with everything you need for your stay at the beach. Yes, seriously! I know, it's really not that much when you look at it!
However, a few other needs may be in place specifically for the car ride there. These can also be used at the Airbnb during quieter hours, or even on the beach. See what I mean about multi-functional?
Snacks for the car ride can be held in the cooler (whether or not they need to be kept cold). Entertainment, including movies, can be watched all together on one iPad or computer to save space. That computer can be used for work later if need be, or to watch movies not available on the TV.
Everyone can bring one book they really want to read, but don't bring a bunch of possibilities– once again, they'll take up space and not be read. Just one book for each reader, and if they're an avid reader, make it a big one! Music or audiobooks can be downloaded onto your phone using apps such as Spotify and Audible, and hooked up to the car with Bluetooth or an aux cord, so no need to bring a big container of CDs! And that's it for the car ride!
Resources