Grenada is a beautiful country of Caribbean islands beautifully endowed with mountainous terrains and volcanic landscapes full of rainforests, crater lakes, mangrove forests, and many gorgeous white sandy beaches that make the islands more than likable, especially for the holidays.
These islands are especially popular for tourism, as the beautiful terrain offers a gentle climate for hiking and exploring through the rainforests and rivers, high up to the mountains.
However, tourism is most popular in the south-western regions of the island, with other places too, having a good number of beautiful scenes to visit and places to stay. Let's have a quick tour.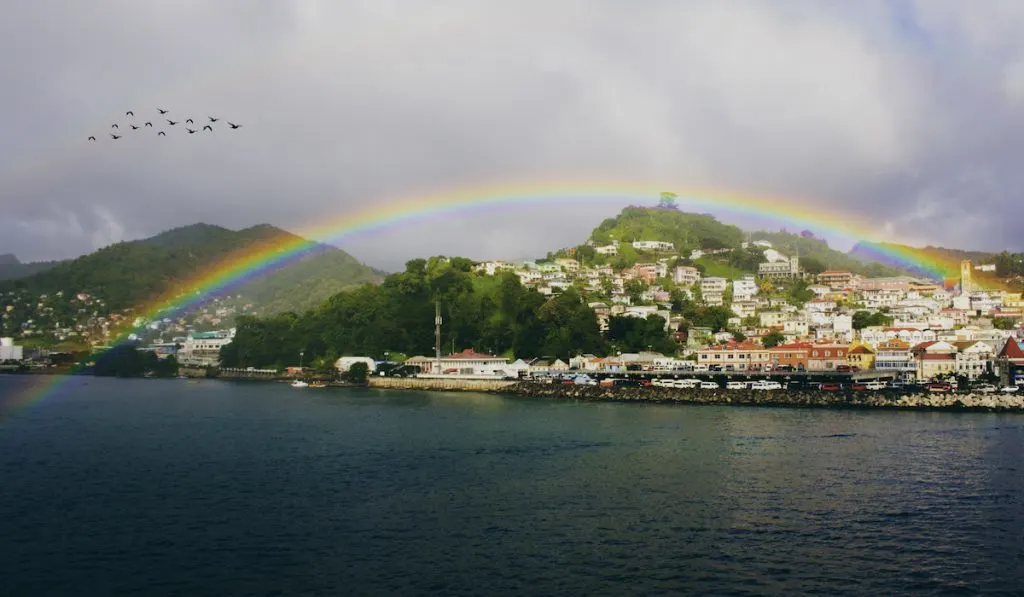 Places to Visit
1. St George's
The islands' capital, St George's, has always maintained its rank as one of the world's finest harbors.
The horse-shoe-shaped city sits on a dormant volcanic crater bordered by two forts. The popular French colonial design houses are characteristically colorful and spread along the city front.
The inner harbor, also known as the carenage, has beautiful sites through jetties, ancient warehouses, pubs, restaurants, and stores.
Local markets in the city are full of fresh local foods, spices, herbs, nutmeg oil and soap, and cocoa balls. The local restaurants are popular with sea food and traditional Grenadian cuisine.
Just as would be found in all the other restaurants in different spots within the islands, St George's cuisine is refreshingly simple and enjoyable, just like the ice cream, which has various flavors, most of them naturally spice-based.
2. Grand Anse
Grand Anse is the islands' most popular beach, characterized by a chain of informal restaurants, bars, and luxurious resorts mostly built no higher than the palm trees lining the sand and beaches.
3. Morne Rouge Bay
Standing on the south side of Grand Anse, Morne Rouge Bay is a serene and less frequented site, full of tropical vegetation.
Its shallow and calm waters make this place the most ideal for family vacations. The jade-green seas meet the white sand in a crescent stretch of over one mile, making it one of the safest places for swimming.
Adding to the fun on this site, you can rent sun loungers, paddleboards, and snorkel equipment. There is also plenty of lush foliage fringing the beach sides, giving enough shade to sit and relax.
4. Grand Etang National Park and Forest Reserve
Found in the island's interior, Grand Etang National Park is home to a variety of plants and animals.
The beautiful rainforests will surely tempt you away from the sandy beaches for a hike through the terrain since there are several paths within the park.
Within the park, those on foot are most likely to enjoy more wildlife, among them possums, Mona monkeys, lizards, armadillos, and various tropical birds.
The main attraction site in the park is the magnificent crater-formed Grand Etang Lake.
From the park's visitor center, various routes run through the park, ranging from the 30-minute self-guided Morne LaBaye Trail to the more difficult Concord Falls Trail, which is equally challenging and interesting since the route passes through falls with swimming places.
Other popular hiking paths include the Seven Sisters Falls climb, the Shoreline Trail around the Grand Etang Lake, and the Mount Qua Qua Trail, a three-hour uphill journey with views over the forest.
Along the paths, expect to see various bird species, orchids, and tall rainforest trees.
5. Carriacou
Also known as the land of reefs, Carriacou (carry-a-cou) is an island northeast of the Grenada main island.
This beautiful island is blessed with white and black sand beaches, coral reefs lying offshore, and great opportunities for snorkeling and diving. These specific features make the island an ideal spot for day trips.
The island also offers several hiking trails and a few sites for sightseeing, including their local museums that display Caribbean, European and African artifacts.
6. Underwater Sculpture Park
This is a unique gallery submerged at the west coast of Grenada in the marine-protected area at Moliniere Bay.
These wonderful pieces created by Jason deCaires Taylor, range from Amerindian petroglyphs to life-sized displays cast from local children, are fashioned from various materials, including concrete and rebar.
They create the ideal permanent substrate that subsequently enables marine life to develop. They also serve as artificial reefs.
Tourists often dive, snorkel, or use glass-bottom boats to admire these wonderful creations. However, watching them from the shortest distance possible is the best way to appreciate their beauty and artistry.
Besides being ornamental, these sculptures have successfully attracted various species of marine life, promoting more tourism and easing the environmental pressure on other surrounding reefs.
7. Levera National Park
Levera National Park, located on the north-eastern shore of the island, is a one of a kind habitat for indigenous trees and a wide variety of birds like herons and black-necked stilts.
It is famous for the sea turtles that often nest on its beaches and the beautiful and dramatic scenery where the Caribbean sea meets the Atlantic ocean,
Levera pond, another focal point of attraction, is a water-filled ancient volcanic crater. At this point, you will get the real experience of the park's life because all the birds often assembled here.
8. Fort Frederick
At the peak of Richmond Hill, fort Frederick gives a beautiful view of St George's, the bay, and the sea. To access it, you might need a small entrance fee, but the view is worth it.
Originally, the French began its construction in 1779 but it was completed by the British in 1791. However, the fort was completely abandoned in 1850, till the Grenadian military later occupied it.
Interestingly, it's also nicknamed 'the backward facing fort' because its cannons face inland instead of facing out to the sea, particularly because of the French's fear of an inland attack after successfully defeating the British with the same trick.
9. Fort George
Lying on the promontory west of the harbor, Grenada's oldest fort, Fort George, was also built by the French in 1705. The main key for attraction here is the 360-degree view of the town's magical red-tiled roofs and church spires.
However, to reach the fort, be prepared for a hot and steamy hike up a fleet of stairs.
10. Petite Martinique
Quiet and beautiful, Petite Martinique is a tiny island located three miles northeast of Carriacou. Fishing is the island's main activity, with limited tourist facilities, except for a few family-run guesthouses and restaurants.
However, you will find plenty of color and welcoming and cheerful faces from the locals. Many tourists often hike up to the island's highest peak, the piton, for amazing views. Their hotels and restaurants also have amazing cuisines and dishes.
11. Annandale Falls
The Annandale is a 33 foot waterfall that flows into quite a large pool full of tropical foliage, with its key attraction being the fearless local divers who leap from atop the fall into the beautiful pool below. If you want, you can also join in since changing rooms are available.
There is a short trail from the Annandale Falls Centre that leads to the falls, and along this path, you will get the real Grenadian experience with wildlife with beautiful tropical flowers like wild ginger and ferns.
12. Spice Tours and Tastings
In Grenada, you will discover many interesting places to visit for spice tours and sampling sessions for different fragrant spices with their history and how best to cultivate and process them for the market.
Some of the best places to visit are the Belmont Estate, Laura's Herb and Spice Garden, and Dougalston Spice Estate, where you will get tours on their organic farms with their tropical fruits and spices, different sampling and tasting sessions for several spices, and helpful tips on their health benefits.
On-site shops are also available to help you re-stock your spice needs. The most common spices are nutmeg, cinnamon, vanilla, cloves, and more.
Where to Stay
1. Silversands
Found along the Grand Anse Main Road, Silversands is a luxurious hotel famed for its striking elegance and minimalist style.
It stretches into one of Grenada's best beaches. It has quality amenities, including a large swimming pool, high-tech bedrooms, an elaborate spa, and large villas with private pools.
2. La Sagesse
Lying on the Atlantic side of the island, La Sagesse is one of the best budget-friendly hideaways on the island. It is a 12-room property found in a romantic crescent stretch of golden sand.
The hotel has an interesting history, having been renovated from a beachside residence in a property initially owned by Lord Brownlow, Queen Elizabeth's cousin.
Along with the golden-sand beach and a nice protected swimming bay, this hotel offers a nice spot for lunch, with the local sea-food dishes and organic spices being the popular delicacies.
Furthermore, plenty of trails up into the wind-swept hills offer plenty of pretty views over the ocean.
The surrounding property is also home to various exotic birds, with most avian species making the surrounding mangroves, scrubs, and salt ponds their habitat.
This destination is specifically romantic, and if you are lucky, you might have the beach virtually all to yourself, most of the year.
3. Laluna
This is a high-end hotel found in south-west Grenada, by a secluded beach. It is famed for its romantic hideaways, making it a favorite amongst honeymooning couples.
The hotel also offers an Italian/Caribbean restaurant, a casual-chic ambiance, and an enticing Indonesian spa.
Other Interesting Features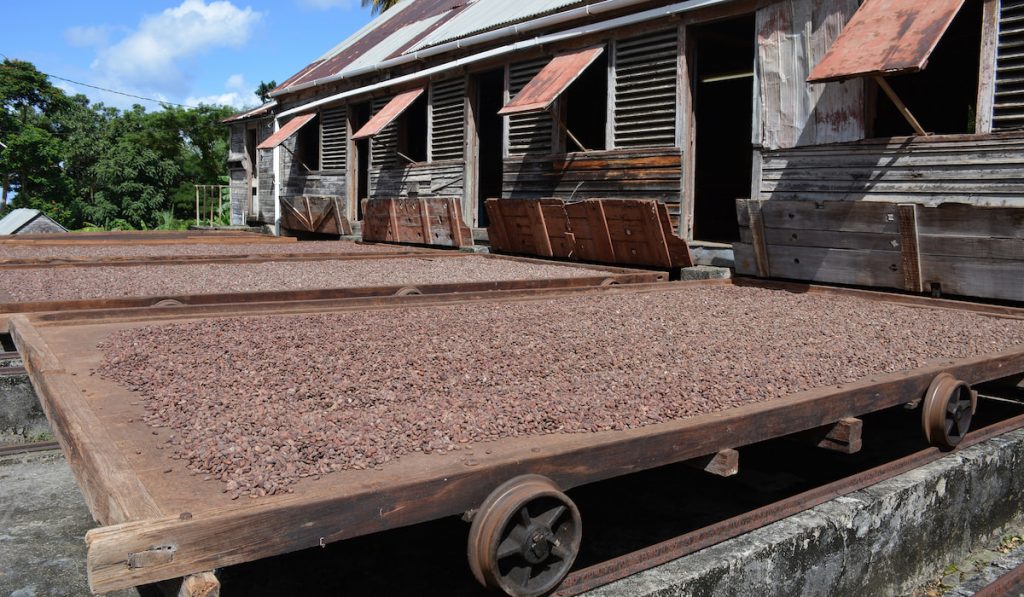 Spice Plantations
The Grenadian soil is very fertile, with most plants and fruits like cocoa, banana, mangoes, citrus, and coconuts growing in dense groves or by the roadside.
It is for this specific reason that spices thrive. The spice plantations and rum distilleries are still crucial to the island's tradition and heritage.
Mountains, Rivers, and Waterfalls
Grenada has a volcanic terrain with thick and large rainforest, thanks to the fertile lands and heavy rains. This creates and maintains the small streams that form rivers flowing down to the sea from high mountains.
This specific feature often gives tourists enough reason to hike along the streams to explore nature and get magical views.
Conclusion
Also nicknamed Spice Island, Grenada is home to several spices, with nutmeg giving its most delicious and distinctive aroma.
Other spices common on the island are cinnamon, cloves, and ginger. The island is also famous for its beautiful scenery atop the hills and mountains, the sandy beaches, and beautiful hiking trails.
There is a specific policy against camouflage clothing for all people, including children, when visiting Grenada. Guests are always advised at entry points to submit such attire to the authorities on arrival to avoid being on the wrong side of the law.
Resources