First of all, congratulations on the wedding! Wherever you are in the planning stages of your wedding, it's certainly an exciting time!
It's tough to beat a beach wedding. There's something so intimate about standing barefoot in the sand with your soon-to-be spouse and the people who love and support you.
Luckily, there are a lot of beach options because Florida is full of beaches! You have your pick of some of the most amazing coastlines anywhere in the world. On top of that, there are fantastic restaurants, reception halls, and other venues to round out your wedding.
But not everyone has a ton of money to blow on a wedding. Some people are on a tighter budget, and that's totally fine! There are still ways to have a wonderful wedding without going into massive debt or spending more than you'd like.

Let's look at how you can manage your wedding and make it magical on a budget. Here are some great ideas for Florida beach weddings on a budget.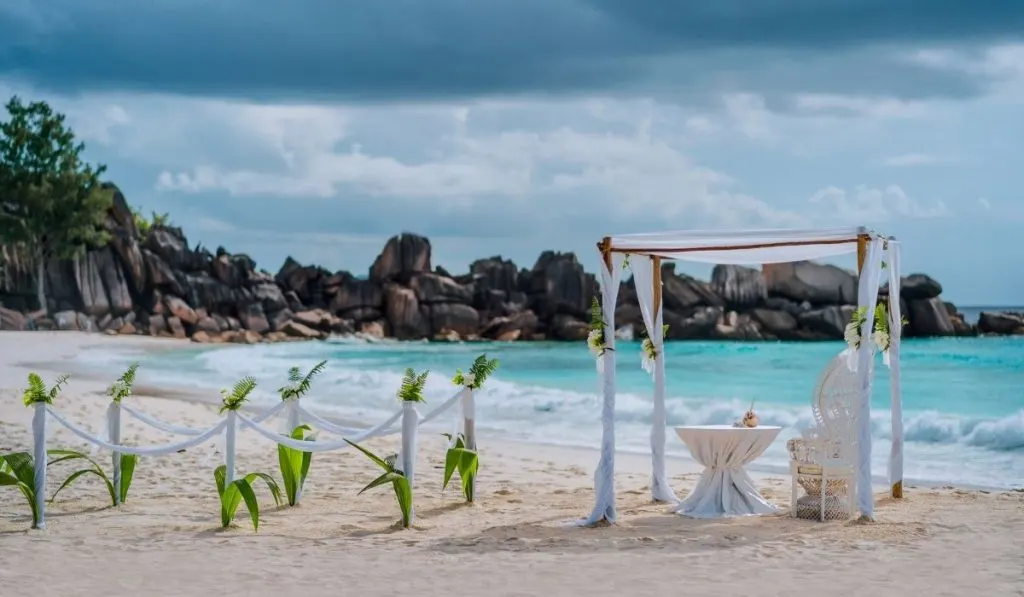 Choosing Your Venue
Your venue might seem simple at first, but choosing the right spot can be tough. You want perfect white sand, an exclusive beach where you can have those intimate moments, and, of course, the photos.
There is so much that goes into choosing your venue, you'll want to give it plenty of time to make the right choice. Here's how you can get a great deal.
Book early
Plan ahead and book well in advance. You're more likely to get a prime location and get the price you want. The more time you give yourself to find your location, the better off you'll be in terms of setting and budget.
Avoid the Highest-Traffic Areas
Yes, if you choose the best locations in Ft. Lauderdale or Miami, you're going to have to pay a ton to book. Most people who fly in from out of state think that those two places, and a handful of others, are all that Florida has to offer.
Locals, though, know that Florida is full of fabulous beaches across the state. You can book a venue in a smaller city or town and save a good chunk of money.
Consider an Off-Season Wedding
Everyone loves to get married on the beach in spring or summer, but one great thing about Florida is that the weather is great most of the year. You don't have to get married in peak season if you want to save money. Find something around the edges that will give you a discount and bright sunny days.
Remember, you don't NEED to book a wedding venue. Most of those come at a premium. You can explore booking a beachfront restaurant or some other type of venue that does private events.
Now there are even sites that let private businesses and property owners rent out their spaces for events like weddings. Give those a look.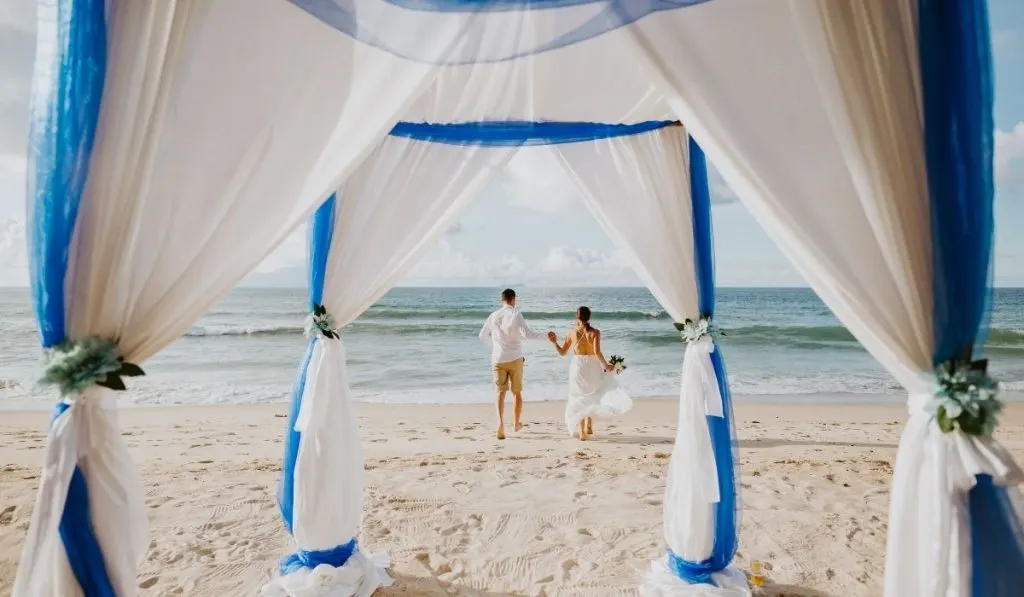 Picking the Decor
One of the best ways that you can save money on a beach wedding is by doing some of the decorations yourself. Even if you're not super trendy or fashionable, you can look online for color schemes and flowers that you like. You probably will know whether you like something, and you can always work with your friends to bounce ideas around.
When you book a non-traditional wedding, it's terrific because you have more freedom to choose how your wedding looks. Keep in mind that most people expect a more casual feel at beach weddings.
You can keep things simple. The more white, the better, and you don't need overly-ornate decorations for your special day. With beach weddings, often less is more.
Compiling The Guest List
One of the nicest things about beach weddings is that they are designed to be more intimate. You don't need to invite hundreds of people, and your beach wedding is a lifelong excuse as to why someone didn't make the cut.
You can always tell them that the wedding was small and informal, and that's why you didn't have a massive guest list. You'll save money by having fewer people there and you won't hurt any feelings.
For the most part, only those closest to you will travel for a beach wedding if you're having a destination wedding, so there's that too.
Asking for Deals
No, you're probably not going to get a discount on a wedding package in peak season on a secluded beach in Miami. Know that going in. However, when there is some wiggle room around dates, venue, guest count, etc., then there's no harm in asking for a deal.
Talk to your venue, caterer, photographer, florist, and whoever else you're paying about whether there's a way you can save. A lot of times, businesses partner with each other because they work well and make things easier. So, for example, a given venue might have a recommended list of caterers that they work with, and you can save money by using them.
The bottom line is that you shouldn't be embarrassed to ask. It's your money, after all.
Booking a Public Beach
Yes, you can book a public beach for a wedding in a lot of places. This, though, takes plenty of advance notice. If you've planned well, though, you should be able to find a public beach that will potentially save you thousands of dollars. All you have to do is pay for applications and permits, and you're good to go.
Make sure you scout plenty of locations and the rules around booking a wedding on a public beach to find the perfect spot for your ceremony.
Final Words
Planning a beach wedding is a great way to save money and make your wedding magical. All of your guests will love the relaxed atmosphere and it's a day they'll remember for the rest of their lives. A beach wedding is a perfect way to start a life together with the people you love the most.
Resources